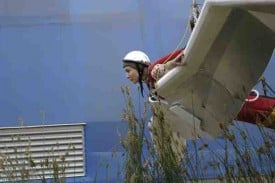 The 2010 01SJ Biennial, with Build Your Own World as the Biennial's central curatorial theme, took place on September 16–19, 2010 throughout the City of San Jose, California, in the heart of Silicon Valley.
"The future is not just about what's next. It's also about what we can build to ensure that what's next matters …". This was the call to action that prompted an international array of artists to submit proposals to participate in the 3rd iteration of the 01SJ, a Biennial at the nexus of art, technology, and digital culture. The result, over a period of 4-days more than 25,000 visitors engaged with over 100 artists, designers, engineers, filmmakers, musicians, architects and avant-garde creators from 21 countries, as they proved that art can be more than merely aesthetically pleasing, but rather a tool with which to Build Your Own World.
An additional 22.000 visitors experienced 01SJ partner programming, leading up to and following the Biennial, between July–October 2010.
Lead by 01SJ Artistic Director, Steve Dietz, in his third and final year with the Biennial, and ZERO1's Executive Director Joel Slayton, the 2010 01SJ Biennial featured works by art and design luminaries David Rockwell and The Lab, Brody Condon, Natalie Jeremijenko, Rigo23, Todd Chandler, Blast Theory and many more. Highlights of the 01SJ included a digital art collector's panel, Still Life with Banquet, the City's first zip-line over a man-made marsh, a drive-in theater fashioned out of salvaged cars, and AbsoluteZERO an evening 01SJ street fair.
The focal point of the 2010 01SJ Biennial was the 80,000 square foot San Jose Convention Center's South Hall, with the exhibition space master plan designed by Madrid-based architect Angel Borrego Cubero. Extending beyond South Hall, the 01SJ exhibits and events took place throughout downtown San Jose in galleries, museums, public and private venues, as well as in neighboring Bay Area cities Berkeley, Oakland and San Francisco.
Of particular note, is the interest the Biennial generated from a broad array of press existing outside the pure "tech driven" category with coverage in Fast Company, NPR, Intelligent Life, CBS Interactive, CNET, PBS National News Hour, Dwell, ReadyMade, San Francisco Magazine, San Francisco Chronicle, San Jose Mercury News, Gawker and many others.
Pleased with the success of this year's 01SJ Biennial and its theme, Build Your Own World, ZER01: The Art and Technology Network, producers of the 01SJ Biennial, looks to the future as it steers a new curatorial course for the 2012 01SJ Biennial. Notes Executive Director, Joel Slayton, ZERO1: The Art and Technology Network, "Building on the success of this year's 01SJ, we have upcoming plans to announce the appointment of a new 01SJ Biennial curator, who will further invigorate our programming and provide the vision for 2012."