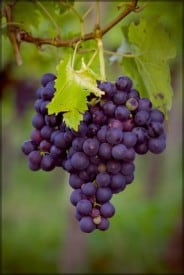 Love it or hate it, Pinot Noir is a grape full of personality. Star of one of the first films centered around wine (metaphorically and literally) — Sideways — Pinot will be in the limelight once again at the upcoming PinoFest 2010 taking place this month.
In the words of Rod Stewart… do ya think I'm sexy?
Hosted by Farallon Restaurant, over 50 wineries from Oregon and California will be pouring their best at the 12th annual event, which will afford you the opportunity to taste wines you might not otherwise be able to enjoy — at least, not all in one place at one time.
In addition, the afternoon features sumptuous hors d'oeuvres to complement the wines and an opportunity to meet the winemakers.
Did you know the name "Pinot Noir" is derived from the French words for "pine" and "black" alluding to the grape variety's tightly clustered dark purple pine cone-shaped bunches of fruit?
Pinot is planted around the world, but California has come on strong in recent years. When you think Pinot, think Sonoma: Russian River Valley and Sonoma Coast. In Napa, the cooler micro-climate of the Carneros region also yields some fine examples.
Party poopers, be sure to pack a mickey of Merlot.
PinotFest 2010

Date: Saturday November 20, 2010
Time: 3:00 until 6:00 PM
Place: Farallon, 450 Post Street, 4th Floor
Ticket price: $100 per person, now on sale
www.farallonrestaurant.com/pinotfest.html
Participating Wineries

Adelsheim, Alma Rosa, Amedeo, Argyle, Au Bon Climat, Bonaccorsi, Brewer Clifton, Byron, Calera, Cambria, Chehalem, Cobb, Costa de Oro, Domaine Drouhin, Domaine Serene, Drake, El Molino, Etude, Failla, Fiddlehead, Flowers, Foxen, Gloria Ferrer, Greenwood Ridge, Handley, Hartford, Hendry, Hitching Post, Iron Horse, J Vineyards, Keller Estate, Lioco, Littorai, Londer, Lynmar, Marimar Estate, Melville, Merry Edwards, Michaud, Morgan, Patz & Hall, Paul Hobbs, Peay, Pey-Marin, Radio Coteau, Robert Sinskey, Saintsbury, Siduri, Skewis, Soter, Talley, Testarossa, Thomas Fogarty, Whitcraft, Williams Selyem