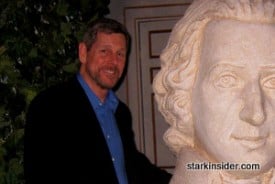 Opera San Jose has appointed Larry Hancock as acting general director. Irene Dalis recently suffered a minor injury in a car accident on highway 280. Hancock has been with OSJ for through its entire 27 year history. Recently he has held the titles of general manager and production director.
From Larry Hancock's bio, "A founding member of the Opera San José staff, Larry Hancock was the director of public and media relations in 1983, marketing director in 1985, and artistic administrator in 1989 before becoming the director of marketing and development in 1991. After serving as m/d director for fifteen years, Mr. Hancock recently was appointed Director of Production/ General Manager for Opera San José. During the 2009 – 2010 season, Mr. Hancock served as set designer for Manon, La Cenerentola, The Marriage of Figaro and La Rondine."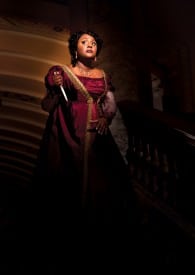 OSJ's next production, Tosca, opens this month at the California Theatre in downtown San Jose. The story of a popular opera diva brought down by the chief of Rome's secret police. Eight performances are scheduled from November 13 through 28 at the California Theatre.
Recently, Stark Insider went backstage with Larry Hancock to discuss Opera San Jose, set design and what it takes to mount lavish productions. Listen carefully, and you might even hear Mr. Hancock demonstrate a fine operatic voice!
Opera San José, performing at the historic California Theatre in downtown San José, is a professional, regional opera company that is unique in the United States. Maintaining a resident company of professional artists, Opera San José specializes in showcasing the finest young professional singers in the nation. In addition to mainstage performances, Opera San José maintains extensive educational programs in schools and in the community at large, and offers Preview lectures and Introduction to Opera talks for all mainstage productions.