Guest post by Jane Lurie.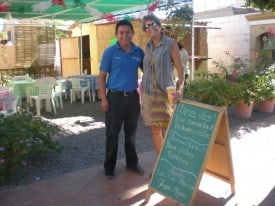 OK. I have been in Loreto for almost 4 weeks, we are leaving in 2 days and not one blog entry. My only explanation for this is that, in the Bay Area, we are preparing to sell our home, move into a small apartment and spend way more time in Loreto. So much is happening around that process that when we arrived here, I actually didn't want to do much of anything but relax. Now some would argue that this is what we always do here but that actually isn't true. We have many projects in our home and the community that we focus on. Not this time.
And I have been aware that Clint and Loni are headed here soon. So this column is for you Clint and Loni. I have scouted up some new spots for you to check out and do your wonderful video reports on. Think of me as your story researcher. My scouting has taken me to new spots and some improved old ones.
First, a favorite of ours, La Capital restaurant next to Michoacana. Orlando has expanded the menu and the hours. They now serve dinner until 9pm. The food is consistently wonderful. Our favorites are the tostadas, the chile rellenos and the huevos rancheros. The service is personal. Orlando remembers that I have my limonada sin hielo, without ice, ecery time. He also invented special enchiladas for me because I have not been eating meat, fish, dairy or wheat…you may ask what is left to eat? Plenty actually or anyway enough to keep me healthy and satisfied…the story behind this is a blog entry in itself. Anyway, he makes me scrambled egg enchiladas and I love them. And the prices are painless. We had dinner and or lunch and or breakfast there many many times during this visit.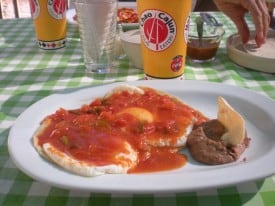 Marilyn makes beautiful jewelry. We first discovered her at the farmers market. She has a stand between Tony Silver and La Cascada Restaurant. She is there most days. She works with unique and beautiful stones, which she is very knowledgeable about. Sharon and I got bracelets and necklaces from her. She will only be there until January. I am sorry she won't be there when we return to Loreto. Check out her work while you can.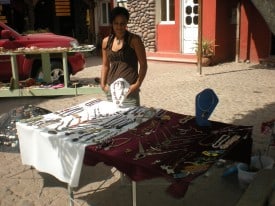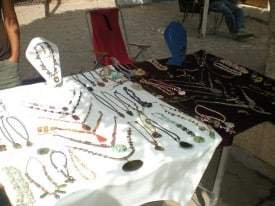 And now for a huge discovery that everyone has been waiting for…a new, really great bakery. Pan Oli is the second store to the left of Dali Deli. As someone who is allergic to wheat I haven't tried most of their breads and buns…except for an ecstatic bite or two of hot bread. But all of my gluten and wheat eating friends are very happy that Fabian, who is from Argentina and his partner, Loni please get her name, who is from Mexico, opened this very special addition to the growing culinary offerings in Loreto. They are open from 7-3. Closed Mondays. Actually they open a bit later on Sundays.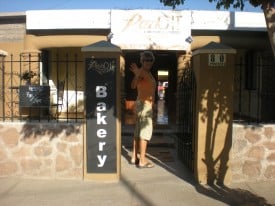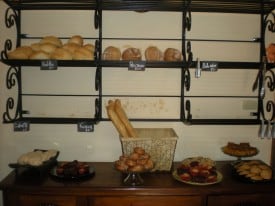 Next another new discovery for us, Fandango Cafe, which is owned by Carlos, latte and chai baristo extraordinaire and Cindy, who is a property manager for many of our Loreto Bay friends. I have become addicted to Carlos' chai latte with Lactose free milk. And his lattes and hot chocolates have been  a big hit also. Cindy's pastries are also becoming legendary.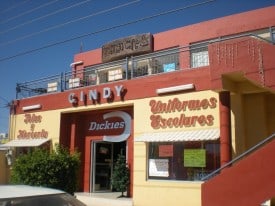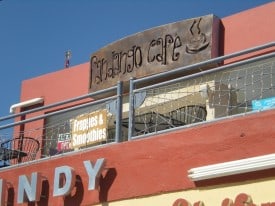 They are open in the evenings and have just opened in the mornings from 7 to 1. They are located above Cindy's family store, called not coincidentally, Cindy's, on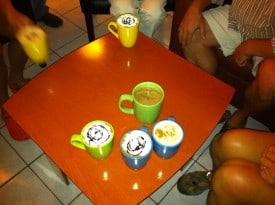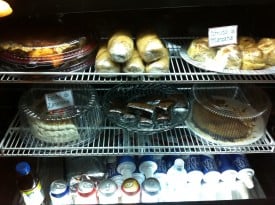 Salvatierra west of Calle Ayuntamento. (note to Clint..more photos are coming to me from Tony Perez's iPhone. I'll put them in tomorrow).
I've discovered a wonderful drink at Cafe Lolita, another favorite of ours. It is called their Green Drink or Green Juice and it has cactus, pineapple, orange juice, celery..maybe something else…it is whipped up in a blender and it truly is a frothy delight. Sometime I just stop by and get it to go. Also Paco and Paula make me a wonderful wheat free dish made from their scrambled eggs and sauteed vegetable sandwich..without the bread. It really is a delicious treat.
Note: Thanks to the Magical Realism of Mexican Immigration, we won't be leaving tomorrow. We'll get that much more time to enjoy friends and beach while I wait for my visa. See you soon Loni and Clint.