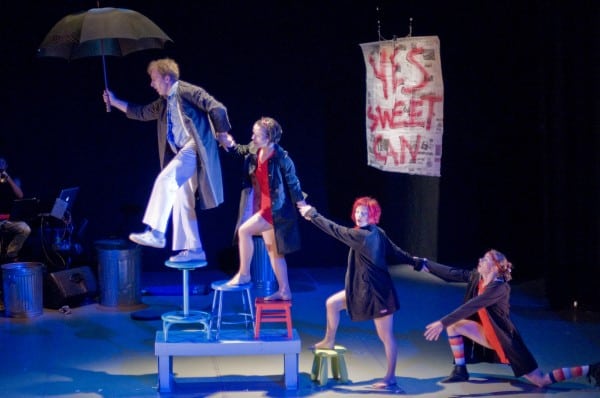 Savor this holiday season with something a little sweet (but oh so good for you). Sweet Can Productions presents its latest intimate theatrical circus, Candid. The 60-minute production features innovative acrobatics of some of the Bay Area's most talented circus artists (Jamie Coventry, Natasha Kaluza, Kerri Kresinski, Nobutaka Mochimaru, and Matt White), under the direction of Joanna Haigood, and features live music performed by local contemporary music maestro Eric "EO" Oberthaler.
In Candid, playing with found objects is the only way to stay entertained. Everyone walks on their hands as easily as their feet, new possibilities spring out of old trashcans, and the most complicated way you can imagine to tidy up is revealed.
Featuring performances on aerial silks, acrobatics, juggling, contortion, and hula hoops, and more, the show combines traditional circus with physical theater, dance, and live music to create a topsy-turvy world in which anything can happen.
Joanna Haigood directs Candid. Co-founding artistic director of ZACCHO Dance Theatre, Haigood's work focuses on creating dances that use natural, architectural, and cultural environments as a point of departure for movement exploration and narrative, often integrating aerial flight and suspension.
Equally at home with digital and traditional composition, composer and performer Eric "EO" Oberthaler has produced a diverse body of work that includes commissions for the New York-based Jamie Bishton Dance Company, music for the interactive web-based comic strips of YiMagination Studios, operatic rituals for the Burning Man festival, the techno-rock opera Joe Messiah, and dozens of songs and new works for the dynamic Bay Area-based world music ensemble Gamelan X, including their recent CD release, SATU.
Sweet Can Productions states their mission is to create intimate, heartfelt performances in which the audience and performer easily connect. Sweet Can presents the circus performer as a human being, and uses the performer's circus skills to make connections by demonstrating the shared emotional experiences that unite us all. Formed in 2006 at the San Francisco Circus Center by founding members Beth Clarke, Kerri Kresinski, and Daniela Steiner, Sweet Can was established with the artistic goal to bridge the gap between traditional circus and theater.
Candid plays for a limited engagement December 17 through January 9. Sweet Can also offers a special sweet holiday treat with Mittens and Mistletoe, playing December 24 and 25. Both productions will take place at Dance Mission Theater (3316 24th St. in San Francisco). For tickets ($15-25; VIP seating $40-60) and information, the public may call 415-273-4633 or visit sweetcanproductions.com.