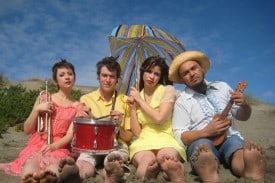 Acclaimed San Francisco theater ensemble, foolsFURY Theater, is celebrating their 12th anniversary with a lively gala on December 11th. The gala will feature wine, hors d'oeuvres, and spectacular performances by Rose Nisker (flamenco aerial tissue), Christine Marie (shadow theater) & a work-in-progress performance by the foolsFURY Ensemble.
Founded in 1998, foolsFURY was named the city's "Best Theater Company" by the San Francisco Weekly in 2008 and awarded the Bay Guardian's GOLDIE award for outstanding local theater group (2007).
FoolsFURY produces World and West Coast premieres, as well as deconstructed classics and is home to training in contemporary physical performance – approaches to theater that emphasize the body as a storytelling tool as well as the psychology.
The theater also producers the FURY Factory Festival of Ensemble Theater, a biennial gathering of Bay Area, national, and international performing artists. Since its inception in 2005, FURY Factory has become one of San Francisco's most exciting cultural events, a vibrant accessible home for audiences and artists to experience the most compelling new works by innovative risk-taking companies. It is unique in the region in its ensemble focus, brings nationwide attention to San Francisco, and provides opportunities for dozens of local artists to expand their creative bounds.
Tickets are on sale now, and all proceeds from ticket sales will support the educational, developmental, and performance programs of foolsFURY. Full price tickets ($60) are available to the public and artists and students get a special half-off rate of ($30).