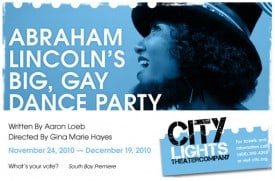 City Lights Theater Company has announced it will present the South Bay premiere of Abraham Lincoln's Big Gay Dance Party. Following the successful run at the San Francisco Playhouse, the play was screened at the 2009 NY International Fringe Festival, where it played to sold out audiences and won top honors.
Now CLTC has brought this award-winning performance to the heart of San Jose.
Playwright Aaron Loeb has created a comedic masterpiece centered on the question: Was Abraham Lincoln gay? "Outed" by a school teacher during the Christmas pageant, our 16th president's sexuality is put on trial, and the dance floor, to settle the debate once and for all.
The play has already garnered critical acclaim for Loeb, collecting a Bay Area Theatre Critic Circle's "Best New Play" Award and "Outstanding Play" from the NY International Film Festival.
The LGBT Resource Center at San Jose State University is a Non-Profit Partner and Sponsor for the show.
Director Aaron Loeb is the CEO of Planet Moon Studios, an independent developer of videogames. His thespian alter ego holds BFAs in Dramatic Writing and Dramatic Literature from New York University. He is a member of the Dramatists Guild and a Playwrights Foundation resident playwright. Even more accolades might be in his future, with nominations for a GLAAD Media Award and seven "Emerging Playwright" Awards from Playground. Loeb lives in Berkeley, CA with his wife Kathy and their daughter Talitha.
Michael Riley (Dead Man Walking, A Few Good Men) takes on the role of Tom Hauser, a hard right wing ex Congressman who is now prosecuting school teacher Harmony Green, Karen DeHart (Anything Goes, Dead Man Walking), for "outing" Abe Lincoln in a school Christmas play. Jerry, Alexander Prather (Twelfth Night, Killer Joe), Tom's son is attacked by the "Gay" Protestors of the trial fueling Tom's reasoning for prosecuting Harmony. State Senator Regina Lincoln, Lani Wong (The Kite Runner, Mummified Deer), aided by her assistant Tina, Alika Spencer (The Shape of Things, The Last Days of Judas Iscariot), becomes Harmony's Defense Attorney, eager for the publicity this case will attract for the polls. Pulitzer winning reporter Anton Renault, Noah Averbach-Katz (Love's Labor's Lost, The Lonesome West), is covering this trial of the century in hopes of exposing a much deeper story while Lloyd Chambers, James Mantell (Breaking the Code, Hamlet), Tom's shady Staffer will do anything to help Tom move up in the eyes of the voters.
Back from the dead good ol' Abe is played by every single cast member. Adding to the holiday fun, the audience will vote/choose the order of the Acts.
Abraham Lincoln's Big, Gay Dance Party

Directed by Gina Marie Hayes

City Lights Theater Company
San Jose

November 24 – December 19, 2010

Thursdays – Saturdays at 8 pm
Sunday evenings at 7:00 pm (Nov. 28)
Sunday matinees at 2:00 pm (Dec.5,12,19)

(No performance on Nov. 25th)

General Admission: $28
*Student/Educator: $15
*Senior: $25
*Group Discounts Available

Run time: 2 hours 15 minutes with one intermission