Broadway By the Bay, a premier musical theatre company, announced they will present Our Hats Are Off!, a benefit concert for Broadway By the Bay's Youth Theatre Conservatory (YTC) – an educational program designed for serious, passionate & dedicated musical theatre students – December 3 – 5, 2010 at Club Fox (2209 Broadway) in Redwood City.
Hosted by actor/comedian Tony Tripoli (Kathy Griffin: My Life on the D-List, Two and a Half Men, Steve Silver's Beach Blanket Babylon), the evening will feature a combination of musical theatre, cabaret and comedic performances from past stars of Steve Silver's Beach Blanket Babylon, the world's longest running musical revue.
Performers include: Dana Adkins, Tracy Chiappone, Ed Goldfarb, Tommy Halligan, Brent Holland, Kathleen Myers, Patrick Reese, Cristina Van Valkenburg and Erica Wyman.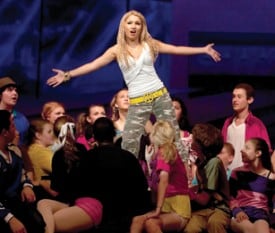 "I feel like the luckiest girl in the world to have had the opportunity to work with these performers at Beach Blanket Babylon for a decade, take a decade off and come together again as if a day never passed…but this time, all hats are off," said Erica Wyman, former cast member of Beach Blanket Babylon and current Education & Outreach Director for YTC. "It is sure to be a night of great music and good laughs!"
Lauded for its efforts in education, Broadway By the Bay's Youth Theatre Conservatory gives students between the ages of 4-17 solid foundations in acting, singing, and dancing for the musical theatre.
Our Hats Are Off!

Friday, December 3 through Sunday, December 5

Club Fox
2209 Broadway, Redwood City.

The performance schedule is as follows: Friday, December 3 and Saturday December 4 at 8 p.m.; Sunday, December 5 at 7 p.m.

Tickets $50.