Berkeley Repertory Theatre may be preparing to move its offices and shops to a beautiful new campus across town, but its School of Theatre isn't going anywhere. In fact, local high-school students are invited to take over that building for the annual Teen One-Acts Festival. For the ninth straight year, teens can invade the School and try their hands at acting, directing, playwriting, producing, and technical theatre.
The Teen One-Acts Festival encourages young writers to develop ideas about issues that inspire them. Each year, a panel of students selects two original plays penned by Bay Area teens to be performed, directed, and produced by their peers. Then the staff at Berkeley Rep mentors these teens at each step of the process to help them perfect their craft. There are many ways to participate:
Write on! Young playwrights are encouraged to submit their scripts to the festival. Each play should be no longer than 35 minutes in length. Submissions must include the playwright's name, age, mailing address, telephone number, e-mail address, grade, and school. The deadline for submissions is Monday, November 29, 2010.
Act out! Aspiring actors are invited to audition for the festival at 1:00 PM on Saturday, January 8, 2011. Please come prepared with a monologue no longer than two minutes. Auditions are held in the Berkeley Rep School of Theatre at 2071 Addison Street in downtown Berkeley, right next door to the company's Thrust Stage.
But I really want to direct… Teens interested in directing should attend a free workshop on Saturday, December 11, 2010 from noon to 4:00 PM. Take advantage of this opportunity to learn about the craft from professional director Mina Morita.
Be the producer. Work behind the scenes with Berkeley Rep's staff to plan the Teen One-Acts Festival. This important position promises excellent practical experience to someone ready for the responsibility. Oversee workshops, organize weekly production meetings, track the shows and their progress, create and maintain a budget, and manage the advertising.
Work behind the scenes. Are you a techie or interested in technical things? To get the Festival on its feet, teens work with professional mentors to design and build costumes, sets, lights, and sound.
Or just enjoy the results: Everyone is invited to see the final show – written, performed, and produced entirely by teens! Performances of the winning scripts take place next spring at the Berkeley Rep School of Theatre. The shows are at 8:00 PM on April 1, 2, 8, and 9, 2011.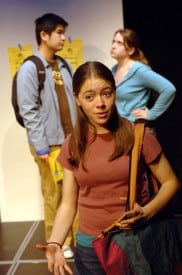 The Berkeley Rep Teen Council is a theatre youth group organized by teens for teens. Its goal is to foster the theatre audiences and theatre professionals of tomorrow by opening channels of communication between teens, theatre professionals, and the community at large while building a base for lifelong learning.
Through a variety of interactive programs, the Teen Council provides an opportunity for youth to participate in all aspects of the dramatic process: on stage, backstage, and in front of the stage through its affiliation with the Tony Award-winning Berkeley Repertory Theatre. Currently, the Council has more than 100 members including youth from numerous local high schools.
Ninth annual Teen One-Acts Festival

Every year, teens select two original plays penned by local students to be performed, directed, and staged by their peers at Berkeley Rep's School of Theatre. Opportunities abound for local youth to explore acting, directing, playwriting, and producing.

WHERE:
Berkeley Rep's School of Theatre, 2071 Addison Street @ Shattuck, Berkeley, CA 94704

WHEN:
· November 29, 2010: Deadline to submit plays for consideration
· December 11, 2010 @ noon: Free directing workshop with Mina Morita
· January 8, 2011 @ 1:00 PM: Auditions for teens who wish to perform in the festival
· April 1, 2, 8 & 9 @ 8:00 PM: Performances of the winning scripts (ticket prices TBD)