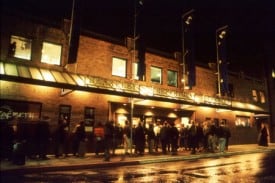 Today, the Tony Award-winning Berkeley Repertory Theatre announced an ambitious plan for expansion. Taking advantage of a favorable real-estate market, and generous terms arranged because of the nonprofit's long history serving the local community, it has purchased a 62,000-square-foot building at 999 Harrison Street in West Berkeley. After completing some essential improvements, the new space will save the Theatre $250,000 each year. Berkeley Rep states the move means paying 50% less for 50% more space.
"It has long been our dream to reunite our staff under one roof," says Tony Taccone, artistic director of Berkeley Rep. "This is an unparalleled opportunity to bring our team together. Our costume shop, our scene shop, our prop shop, our production staff, and our entire administrative team will share the same space every day."
According to the theatre, the spacious facility will unite its artisans and administrators under one roof for the first time in decades while cutting costs, improving efficiency, supporting the local economy, and upholding the tradition of light manufacturing in West Berkeley. It will also free up space in the Thrust Stage on Addison Street to provide new amenities for audiences coming to see its shows.
Foundations involved include S.D. Bechtel, Jr. Foundation and the Wayne & Gladys Valley Foundation.
The acquisition allows the Theatre to consolidate all its pre-production activities into one campus: the new facility will house the costume shop, prop shop, scene shop, storage, and administrative offices, which are currently divided among five different locations in two cities. Eventually, Berkeley Rep also hopes to use the space to house rehearsals.
All performance-related functions will continue at the Theatre. For example, the box office will remain on Addison Street, and sound, electrics, and wardrobe crews will of course continue to work backstage. Working conditions for those employees will greatly improve, because the building will house fewer people, while staff members moving across town will also enjoy more comfortable conditions in a roomy new facility filled with natural light.
"Say goodbye to the days of being bounced from one rented space to another," remarks Managing Director Susan Medak. "For the last 20 years, we've been trying to find a permanent home for all our employees. That day has finally come. I am so pleased to bring the scene shop back to West Berkeley, which is valiantly fighting to preserve its character as the city's home for light manufacturing. We look forward to being part of that tradition once again, and can't wait to rejoin the many artists who have made that part of town so vital.
To outfit the new space with safe work conditions for employees in its technical shops, Berkeley Rep must raise $3.5 million. The nonprofit has already secured seed funding, thanks to generous contributions from the Bechtel Foundation and the Valley Foundation. Union Bank has also agreed to finance a portion of the improvements immediately.
Berkeley Rep has been seeking an opportunity such as this for decades. It became essential to resolve the issue after its previous scene shop – also located in West Berkeley – was destroyed by fire in 2005. Understanding how important this campus would be for the future of the Theatre, board members on Berkeley Rep's facilities committee, led by Bill Falik, identified the building and negotiated the sale. Previous tenants of 999 Harrison include Ten Speed Press and the North Face.
"Our artistic successes are rooted in shrewd, strategic business decisions such as this," adds Marjorie Randolph, who serves as president of Berkeley Rep's board of trustees. "These behind-the-scenes accomplishments are only possible because of the goodwill and support of our community. We are grateful for the Bay Area audience, which has fostered our growth and encouraged us to reach for the sky."
BENEFITS OF BERKELEY REP'S NEW HOME

Cuts costs – Berkeley Rep pays 50% less for 50% more space

Enhances the audience experience – patrons at the Theatre enjoy new amenities

Improves efficiency – consolidates functions handled at five different locations in two cities

Supports the local economy – brings all the Theatre's employees back into Berkeley and upholds the tradition of light manufacturing in the west part of town

Increases autonomy – Berkeley Rep stops renting and owns all of its shop and office space

Fosters a collaborative, creative work environment – artists, artisans, and administrators all work under one roof in a spacious, attractive new campus
THE LONG ROAD HOME: A HISTORY TOLD THROUGH BUILDINGS

Berkeley Rep has always struggled to balance its artistic vision with the physical limitations of its facilities. In 1968, the Theatre was born in a storefront on College Avenue. Its first stage was shoehorned into a shop that had previously housed a green grocer, and sets were built in the back yard. The Theatre could accommodate only 85 audience members, who had to watch where they put their feet so they didn't trip the performers!

By 1970, shows in this tiny space played to 99 percent of capacity – so Berkeley Rep decided to break on through to the other side, knocking down a wall and adding almost 70 seats. Nonetheless, to enter on the far side of the stage, actors had to run outside, down an alley, and back into the building – and the dressing room was two flights up. Perhaps that's why actors occasionally seemed out of breath when they appeared on stage. Meanwhile, the staff of this scrappy young theatre worked together in one very crowded room.

As early as 1975, the company began searching for ways to expand. With generous support from the community, foundations, and local and federal government, Berkeley Rep built a handsome new theatre on Addison Street. Completed in 1980, the Thrust Stage was intended to meet all of the Theatre's needs for years to come. When it moved in, the company enjoyed long-imagined luxuries such as a rehearsal hall, scene shop, costume shop, office space, and a second dressing room. Plus, actors weren't gasping for breath when they entered stage left. For their part, theatregoers appreciated a spacious lobby, a beautiful courtyard, bigger restrooms, a nearby BART stop, and – best of all – comfortable, assigned seats. The new theatre retained the intimacy of the College Avenue space – with only 11 rows and no seat more than 38 feet from the stage – but it had a capacity of 400.

Yet the maxim is true: if you build it, they will come. In the first year on Addison Street, Berkeley Rep's subscriber base tripled – and more quickly than anyone expected, the company outgrew its shiny new home. Soon the scene shop was moved off-site – to a warehouse on Fifth Street that had once housed rehearsals for legendary band Creedence Clearwater Revival – and the Theatre's staff has been split among multiple locations ever since.

In 1990, with the continued growth of the company, many staff members were moved into rented office space across the street from the Theatre. It became necessary to move those offices again in 2000 and 2004. Berkeley Rep's artisans have been separated as well: 15 years ago, the Theatre figured out how to provide more shop space for the folks who create costumes and props, but it meant dividing them between four different parts of the Addison Street facility.

Meanwhile, Berkeley Rep's audiences – and its national reputation – continued to grow. Since it couldn't put more shows in a sold-out theatre, and since its vision outstripped the technical capacity of the Thrust Stage, Berkeley Rep began presenting in other venues as well. Landmark shows such as Metamorphoses and The Woman Warrior had to be staged elsewhere. During the '80s and '90s, the company performed throughout Berkeley, Oakland, and San Francisco, awaiting the day when it would have a second stage of its own.

In 2001, thanks to broad support from the city and the community, Berkeley Rep greeted the new millennium by unveiling two new buildings on Addison Street: the 600-seat Roda Theatre and the Berkeley Rep School of Theatre. These additions transformed a single stage into a vital and versatile performing arts complex, the linchpin of a bustling Downtown Arts District.

The beautiful Roda Theatre – with its wide proscenium, state-of-the-art sound system, extensive fly space, and deep trap room – provided greater artistic flexibility. It also preserved the intimacy between audience and performer which has always been the hallmark of Berkeley Rep; no seat is more than 49 feet from the stage. In recent years, several shows have gone from the Roda Theatre to Broadway.

Next door, the School of Theatre opened its doors as well. Having a central location to house all of Berkeley Rep's education and outreach activities was the culmination of several decades' worth of work in local schools and the community. For the past nine years, classrooms at the School of Theatre have been busy with workshops and performances nearly every day.

Yet even daring plans have limits: the tight economy in the wake of the dot-com era meant these buildings did not include additional space for offices or shops. The last straw came in 2005, when an accidental fire destroyed the scene shop and all its contents. The search was on for a permanent location…

Today, after decades of wandering, Berkeley Rep is coming home.