Ginger Rogers danced her way into our hearts in the arms of Fred Astaire, setting the gold standard for grace and elegance on the silver screen. Backwards In High Heels tells the captivating story of the star's journey from her hometown to Hollywood and from one love affair to another. San Jose Repertory Theatre's production of this sure-to-be holiday favorite has been called "an enchanted evening…the melody is flowing and the tap shoes are chattering away, all is nirvana" (Florida Sun-Sentinel).
Backwards In High Heels, conceived and developed by Lynette Barkley and Christopher McGovern and directed by Scott Schwartz, is based on the book, original songs and arrangements written by Christopher McGovern. It is a co-production with Arizona Theatre Company, Asolo Repertory Theatre and The Cleveland Play House. This surprising, true-life story runs at the San Jose Rep from November 24 – December 19. Pay What You Will Night is Wednesday, November 24 at 8 p.m. Press Opening Night is Wednesday, December 1 at 8 p.m.
"What could possibly be more fun during the holiday season than spending an evening with Ginger Rogers, and some of her friends – including Fred Astaire, Kate Hepburn, Ethel Merman and Jimmy Stewart?" says the Rep's Artistic Director Rick Lombardo.
"Wonderful music, beautiful choreography and a trip back to the golden age of Hollywood – I can't wait."
Best known as Fred Astaire's dance partner, Ginger defied her over-protective mother to become one of Hollywood's biggest stars and one of the industry's first women to demand equal pay. Her career began when she won a Charleston contest in her hometown of Forth Worth, Texas, at age 15. Three years later, she made her Broadway debut and quickly became a star. Ginger was discovered by Hollywood, where her fame culminated in winning an Oscar for her role in Kitty Foyle. Along the way, she had tempestuous relationships with producers, co-stars and many husbands—but none rivaled the importance of her relationship with her mother. Funny, moving and a visual feast, Backwards In High Heels is a toe-tapping, swirling, gliding account of her ambitious public and private life.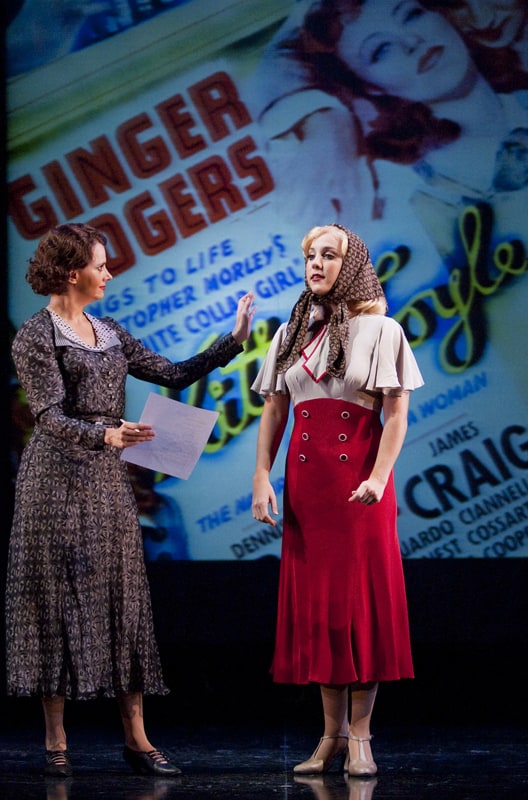 "Ginger was a trail blazer: She was among the first of Hollywood's leading ladies to demand fair pay and to exert control over her work to a previously unprecedented level," says Christopher McGovern, Co-Conceiver of Backwards In High Heels. "The heart of her story though, and one we all can relate to regardless of the era—her success, her struggles, who she was and who she became—all were grounded in a complex and layered relationship with her mother. It proved a fascinating relationship to explore, and one which I hope makes this piece relevant to all generations of children, parents and lovers of theatre and the movies."
Christopher McGovern is familiar with bringing musicals to the stage. He is the author/composer of Lizzie Borden, A Visit to Roswell and many other original songs and musicals. He has worked as producer/arranger/orchestrator and songwriter on recordings by Tony-nominees Rebecca Luker, Susan Egan and Alison Fracer, Karen Mason, Liz Callaway, Roslyn Kind and many others.
Director Scott Schwartz directed the Broadway production of Golda's Balcony and Jane Eyre. Off-Broadway, he directed Bat Boy: The Musical; Tick, Tick…Boom; Rooms: A Rock Romance; The Foreigner, Franz Kafka's The Castle; Miss Julie; and No Way to Treat A Lady. Choreographer Patti Colombo choreographed the Broadway production Peter Pan, starring Cathy Rigby. She also choreographed the national tours of Dr. Doolittle starring Tommy Tune and Seussical the Musical.
The cast of Backwards In High Heels is led by Anna Aimee White as Ginger Rogers and Heather Lee as her mother, Lela. They are joined by Matthew LaBanca, James Patterson, Benjie Randall, and Christianne Tisdale.
The creative team for Backwards In High Heels includes scenic designer Walt Spangler, costume designer Alejo Vietti, sound designer Abe Jacob, and music director Tim Robertson. The stage manager is Laxmi Kumaran.