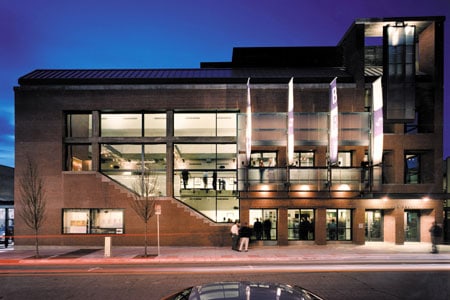 Ask Amy Potozkin's parents and they'll tell you: she was always theatrical. For the last two decades, the Kensington resident has put those talents to good use as the casting director and artistic associate at Berkeley Repertory Theatre. Over the years, Potozkin has met thousands of actors at countless auditions for hundreds of shows – and she's earning praise from her peers and colleagues on the occasion of her 20th anniversary with this popular nonprofit theatre.
Potozkin has worked on landmark shows at Berkeley Rep such as American Idiot, Mad Forest, and Passing Strange – and some of her upcoming projects include the Theatre's production of Lynn Nottage's Pulitzer Prize-winning Ruined and Sarah Ruhl's new translation of The Three Sisters. Her work for the screen includes casting for Conceiving Ada, starring Tilda Swinton, as well as Josh Kornbluth's Haiku Tunnel and his upcoming Love and Taxes. She has also cast roles for theatre companies in Dallas, Phoenix, Sacramento, Seattle, and throughout the Bay Area.
Artistic Director Tony Taccone calls Potozkin one of his "favorite people in the universe. She brings an extraordinary level of passion, intelligence, and goodwill to every project, and her instincts with regard to casting and play selection have played a seminal role in our success. Moreover, her ability to work with every kind of artist, and to support those artists through thick and thin has helped us to create a safe, dynamic working environment. Plus, she laughs at my jokes."
Les Waters, Berkeley Rep's associate artistic director, works with Potozkin to cast many of the shows he directs. "She knows how to read a play," he remarks. "She is not impressed by the glib, the superficial, the flash. She knows what kind of actor is required to live in the imaginative world of a particular writer."
Actors share this affection for her. Danny Scheie, who has been seen at Berkeley Rep in shows such as Fêtes de la Nuit and You, Nero, describes Potozkin as an "outstanding casting director." "She can work as an agent for you, as a director, as a colleague, as an actor, and as a great friend," he says. "She'll always give you as much as she can. I'm not that easy to cast, but Amy sees my talent beyond my type. She's creative about how to use my creativity."
INSIDE THE ART OF CASTING
Potozkin begins the process of casting a play by first listening to her instincts and employing her imagination. "The imagination is necessary to try and fully grasp what is going on in the world of the play," she explains. "And your instincts come into play as you envision the relationships between the characters and begin the matchmaking process of actor to role."
Like so many aspects of theatre, casting is an exercise in collaboration, and the process rarely follows the same pattern from play to play. "Much of it is about networking and communicating with other casting directors, both locally and nationally," she says. "In the Bay Area, the casting directors are all very helpful to one another."
Potozkin knows that one of her primary jobs is to quickly grasp the show's aesthetic, or as she describes it, "understand what a director finds sexy. I'm there to support the director's vision." She asks each director to see local actors first, and some may have specific actors in mind for certain roles or relationships with particular actors. "We look for the best actors in the country," she adds. "We're able to cast a wide net."
Likening the process to working a puzzle, Potozkin says helping directors find the right actors to give great performances is its own reward. "Seeing wonderful performances makes me happy for the audience, for the artists, and for Berkeley Rep."
A LIFELONG LOVE
Amy Potozkin grew up in the Bronx. Her father would often take her to puppet shows and plays, leading her to quote in later years from Donald Margulies' play The Loman Family Picnic: "My family didn't go to synagogue. We went to Broadway."
She fondly remembers the drama workshops offered at the summer camp where both of her parents worked. "I think I fell in love with theatre as an audience member," she recalls. "It was that feeling of being transported completely."
When she headed upstate to Binghamton University, Potozkin figured she should study something more "serious" than theatre. "I didn't realize theatre had a social consciousness because it was so pleasurable to me," she explains. "But when I decided to study social work, my mother said, 'Why? You love theatre!' That was a turning point in my life."
Fully committing herself to living the life of an actor, Potozkin waited tables in Manhattan and managed to rack up some impressive credits with the Oregon Shakespeare Festival, the New Jersey Shakespeare Festival, and several off-Broadway theatres. As she headed to graduate school at Brandeis University, Amy was sure about theatre – but she wasn't quite as confident about acting.
The revelation came during a year-long internship in the literary department at Playwrights Horizons. "Being part of the artistic team – I loved it!" Potozkin enthuses. "The straitjacket had come off." While there, she was often consulted by the casting department and was considered a natural when it came to coming up with ideas for matching actors with suitable roles. "I realized that casting was what I was best at and what was most fun for me," she remembers.
After earning her MFA, Potozkin headed west. In September 1990, she began working at Berkeley Rep as assistant to the artistic staff. Within the year she had added "casting director" to her title, for a production of George Bernard Shaw's Major Barbara… and the rest is history.
SECRETS OF SUCCESS
Potozkin happily reveals one of the secrets of her success: she loves actors. "I have tremendous appreciation for them and compassion for the life of an actor. I know firsthand the joys and disappointments of that life," she admits. "I love great acting because it is the living, breathing performance that creates such powerful alchemy with the audience. Great acting deepens our understanding of who we are because while we are experiencing a great performance, we have no choice but to connect with parts of ourselves."
Potozkin and her husband of five years live in Kensington, and she says working at Berkeley Rep has been a privilege. "I've worked alongside colleagues who have grown so much over the years. It's so gratifying to see how they've become seasoned as artistic leaders – and that galvanizes the quality of the work we are doing."
She also says there's a reason that Berkeley Rep keeps making bold artistic leaps: "The Berkeley Rep audience is particularly intelligent and sophisticated and expects a lot from us. This is a huge blessing. Plus the staff here is so skilled. With the quality of artists and staff we've been able to attract, the bar has just gotten higher and higher through the years. The staff and the audience make it possible for us to take the risks we take, which allows us to constantly evolve as a company."
Many things have changed in the last 20 years, and Berkeley Rep continues to evolve. Luckily for Bay Area audiences, though, one thing in the ever-shifting world of Bay Area arts has been constant: Amy Potozkin, sitting in auditions, to ensure that they can count on top-notch acting at Berkeley Rep.