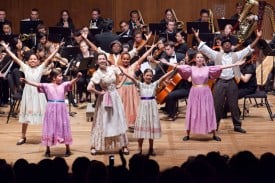 The Emmy Award-winning FOX TV show Glee is a cultural phenomenon, and it's making musical theater cool. According to the San Francisco Arts Education Project, they're seeing an incredible increase in the number of kids who want to be involved in their musical theater programs. They're calling it the Glee effect.
During a six-week summer camp session, the musical theater company saw a record 60 students participate in the creation of a staged concert production of Rodgers and Hammerstein's Carousel, performed with the UC Berkeley Summer Symphony. And SFArtsED Players, a youth musical theater troupe for ages 9 to 15, is as big as it has been in nearly a decade with 54 kids. Also a record number of boys were involved – 21 – which, given the history of musical theater programs, is an impressive participation level.
Credit the Glee effect.
"I think this is the next big wave in musical theater interest for kids," says Emily Keeler, SFArtsED's artistic director. "I think the first wave was partly a result of the animated musical films that Disney brought out starting 20 years ago – the Little Mermaid effect. Wicked has also been a great connecter for kids to this form, and Spring Awakening to some extent. But Glee has really bumped it up. It's been a phenomenon because it is on television and available to absolutely everyone. This summer in our Broadway Bound camps I asked for a show of hands who watched Glee and 85 percent of the kids raised their hands – raised them high and screamed!"
This season, the Players, representing 32 different Bay Area schools (18 of them public schools), will be working on an original revue of Cole Porter songs called Everything Goes!, which will be performed next February at the Eureka Theatre. Some of the troupe's past shows have included classics such as Fiorello! and The Pajama Game as well as original musicals like The Yellow Wood, the first show in an ongoing collaboration with the Tisch School at NYU's graduate musical theater writing program.
Anisa Henry, 13, is in her third year as a Player, and she's a big fan of Glee, partly because she enjoys seeing the kids on TV expressing themselves through song and dance. "That's how I think of the Players," the eighth-grader says. "It's about expressing who you are. You follow a script, but you put what you have and who you are into it. I come to work with the Players and express what I'm feeling. Performing is about becoming who we are and exploring what we'd like to be."
Fellow player Eric Cheung, also 13, agrees. "The Players are always talking about Glee," he says. "And it's easier to tell people about what we do if we say it's like on Glee. I just think it feels good to see what we do on TV."
In the glossy world of Glee's McKinley High School, it seems the young singer-dancers learn a song and complex choreography in a day. But in the real world, musical theater performance requires more time. Players rehearse twice weekly, on Friday afternoons and all day Saturday. The young performers are working diligently with Keeler and her artistic team, which includes theatrical director Danny Duncan and musical director Diana Lee as well as several vocal coaches, accompanists and choreographers.
"The process is a rigorous one," Keeler explains. "We teach as we rehearse music, dances and acting. The kids will get two kinds of dance classes – contemporary and tap – and vocal workshops as well their music and choreography for the show. We work by the watchword that 'time is the enemy of theater.' We teach the skills of learning quickly and it is each performer's responsibility to learn and retain the material so that each rehearsal moves the show forward. The process is as authentically professional as possible. And here is what's great – this excites the kids, and they universally rise to the challenge of working like professionals."
You cannot simply sign up to become a Player. After developing and demonstrating their talents in the SFArtsED summer camp Broadway Bound programs, some performers are invited to take the next step and become a Player.
Eighth-grader Henry admits that Glee has made being a musical theater geek – or "gleek" as fans of the show prefer – a little bit hipper at school. "But to me," she adds, "I've always been happy to be a musical theater geek."