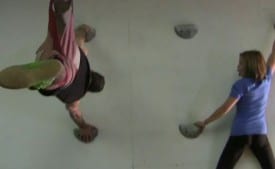 We're pleased to announce the top videos now playing on Stark Insider this week. While we're not quite as big as CNN or as popular as a cat playing a piano, we've like to think we hit the (almost) sweet spot when it comes to theater, arts, food and wine coverage in the San Francisco Bay Area. Your mileage of course may vary. But half the trick is just showing up, no?
#3 Inside SF Cocktail Week (Inauguration of the Boothby Center)
As part of the inauguration for the new Boothby Center in San Francisco, SF Cocktail Week kicked off in grand style. Here is a short look at what was going on. Plus, who is William "Cocktail" Boothby anyways?
#2. Training with Cirque du Soleil
People all over the world know the magic that is Cirque, with its incredible presentations and beautiful mix of artistry, acrobatics and performance. Preparations are literally of Olympic proportions. So it's no surprised that you'll run into Olympic-class athletes, and professionals from all sorts of sports. Physical condition is paramount. Join Loni as she heads to the Cirque training facility to see what it's like to prepare for an evening under La Grand Chapiteau.
#1. Backstage at La Cage aux Folles (Broadway by the Bay) – Man to Woman!
A timeless classic, La Cage has been entertaining audiences for over 30 years. And why not? The costumes, music, choreography: all faaaabulous. But what exactly does it take to go from man to woman – from masculine to feminine – and from bushy brows to finely sculpted artwork? Find out as Loni Kao Stark goes inside the dressing room before show time as the performers prepare for the big night.
Update

StarkSilverCreek is now Stark Insider.

See a show. Enjoy life. Come back soon.