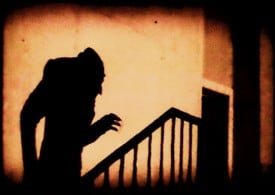 Here's a real treat for fans of classic cinema. Club Foot Orchestra is presenting SHERLOCK JR, THE CABINET OF DR. CALIGARI and NOSFERATU, three of its most popular silent film performances at the Castro Theater on Sunday, November 14.
Club Foot Orchestra is Myles Boisen on bass, Cornelius Boots on woodwinds, Sheldon Brown on woodwinds, Beth Custer on clarinet, Chris Grady on trumpet, Steve Kirk on guitar, Richard Marriott on trombone, Gino Robair on percussion, Alisa Rose on violin, and is conducted by Deirdre McClure.
"At times it was hard to know what to watch – the screen with its huge vision, or the orchestra with its feverish view of the technology of music. There were big musical moments, and the versatility of the players was such that sometimes that took precedence over everything." – Philadelphia Inquirer.
Buster Keaton's Sherlock Jr. (1924) is a masterpiece of American surrealism. A good-hearted projectionist is thwarted in his ambitions in his waking life, but when he falls asleep on his job, his dreamself jumps into the movie (the reverse of PURPLE ROSE OF CAIRO) solves the crime and gets the girl. He's disappointed to wake from his dream, but the girl comes back on her own. Pure Freudian wish fulfillment.
The Cabinet of Dr. Caligari (1919) is generally considered the first completely realized German Expressionist film. The screenplay, written by Carl Meyer and Hans Janowitz, combined dream imagery with a STRONG anti-authoritarian message, an outgrowth of their experiences during WWI. Their screenplay had the movie end with Caligari in a straitjacket and raving mad. Fritz Lang, who had been brought in to fix the movie, is responsible for framing the screenplay with footage which suggests that the whole story is a nightmare invented by the patient, who had just been saved by the good doctor. But the fact that the sets remain distorted to the very end, suggest that despite his antiseptic appearance, all is not right with the world.
Nosferatu, directed by FW Murnau in 1922, was the first telling of Bram Stoker's "Dracula" on film. The vampyr was played by Max Streck. Bela Balzacs, a German film writer of Hungarian descent, called the film "a chilly draft from doomsday". A crazed real estate agent in Bremen sends his recently married clerk, Harker, off to Transylvania, to the castle of Nosferatu, to settle some business affairs. The vampyr is attracted to a picture of Harker's wife and leaves for Bremen to find her, leaving a trail of death.
"Club Foot Orchestra has pioneered the modern use of live music with silent film. This nine-piece ensemble flawlessly performed a score carefully matched to every piece of on-screen action in what amounts to an hour-long suite of epic proportions." – Chicago Tribune.
The Club Foot Orchestra is a music ensemble founded in 1983 by Richard Marriott. After a brief career playing dramatic, complex music in San Francisco clubs, they became known for their equally dramatic and complex scores for classic silent movies. The ensemble got their name from a performance art nightclub called the "Club Foot" which flourished in the Bayview district of San Francisco. Marriott, who lived upstairs, formed a house band that came to be called the "Club Foot Orchestra". Two albums released on Ralph Records document this period: Wild Beasts and Kidnapped. The performers on these recordings included Snakefinger, Beth Custer, Eric Drew Feldman, Dave Barrett, Dick Deluxe Egner, Josh Ende, Arny Young, Julian Smedley, Dave Kopplin, Raoul Brody and Opter Flame.
More info: www.clubfootorchestra.com
Silent film marathon with Club Foot Orchestra at Castro Theatre

Sunday, November 14 at the Castro Theater, San Francisco

Schedule of Films:

1:00 SHERLOCK JR (dir. Buster Keaton, 1924) Incredible stunts, Outrageous gags, Primitive American Surrealism!
Bargain Matinee! Adults $10, Kids (12 and under) $5.

4:00 SHERLOCK JR (dir. Buster Keaton, 1924) repeat

6:00 THE CABINET OF DR. CALIGARI (dir. Robert Weine, 1919) The first Expressionist film, often considered one of the most influential movies of all time. Dreamlike plot and nightmarish sets.

8:00 NOSFERATU (dir. FW Murnau 1922) The first and greatest vampire movie. One cannot fail to be chilled by "the glacial draughts of air from the beyond."