Kevin Kent returns to Teatro ZinZanni – starring in License to Kiss II, A Sweet Conspiracy — opening November 4 and playing through March 6, 2011 in the Pier 29 Spiegeltent.
In typical zany ZinZanni style, License to Kiss II, A Sweet Conspiracy combines film noir glamour, super-secret espionage, and comic hijinks – all in "service" of the search for the perfect dessert. As our international man of mystery, Mr. C, the amazing Kevin Kent uses his unique improvisational comedy skills to thwart all those who would hinder his search for the perfect dessert.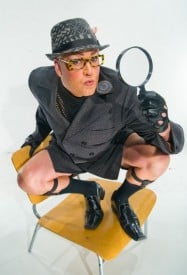 The production also features Swedish performer and heartthrob Tobias Larsson and aerialist Kari Podgorski, both of whom make their San Francisco performance debuts. The show also features two sensational husband and wife teams. Bringing their brand of physical comedy and acrobatic mischief back to the tent, Wayne Doba combines singing with tap dancing while his wife, Andrea Conway Doba, joins him in lighthearted comedy and literally finds herself hanging from the chandelier in her now-iconic acrobat routine. The Swiss American duo of Sam Payne and Sandra Feusi continue to amaze audiences with their gravity-defying pole dance, Vertical Tango. Acclaimed San Francisco opera singer Kristin Clayton combines high style with high notes in her portrayal of the Diva. Rounding out the cast in the role of a stern unsmiling maitre d', Lutz Jope delivers a classic portrayal of a white clown — austere, unrelenting in his pursuit of order over chaos, and yet free-spirited enough to deliver a surprise show-stopping number.
Teatro ZinZanni has entered its second decade of performance on San Francisco's fabled Embarcadero. The show is presented in a gorgeous antique Spiegeltent, imported from Belgium and nicknamed the Palais Nostalgique. More than 100 years old, the Palais Nostalgique boasts stained glass, hand-carved wooden interior columns, polished crystal and mirrors.
Since it opened in 2000, it has become a permanent fixture and an integral part of the lively entertainment and culinary scene in San Francisco, offering a bewitching blend of European cabaret, cirque arts, music, and comedy, combined with a 5-course dinner created by Chef Patrick Fassino of Restaurant TZ, an arm of Taste Catering.
The regular schedule runs Wednesday through Saturday at 6 p.m. and Sunday at 5 p.m., however show schedules change weekly, so check the website for specific details. Tickets start at $117 and are available at the on-site Box Office at Pier 29 on the Embarcadero weekdays from 10 a.m. – 6 p.m., and weekends from noon – 6 p.m., or by phone at 415/438-2668. Premium and preferred seating is also available.