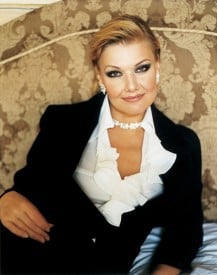 San Francisco Opera announced it will present Leoš Janáček's The Makropulos Case in six performances running November 10–28 at the War Memorial Opera House.
Following her triumphs in the title roles of Jenůfa and Káťa Kabanová, Finnish soprano Karita Mattila makes her role debut in one of Janáček's most intriguing operas as the mysterious Emilia Marty. Tenor Miro Dvorsky returns to the Company as Albert Gregor and bass-baritone Gerd Grochowski makes his San Francisco Opera debut as Baron Jaroslav Prus.
These performances, which mark the premiere of this new co-production with Finnish National Opera, reunite Mattila with Olivier Tambosi, director of her triumphant Manon Lescaut at San Francisco Opera in 2006. Czech conductor and Janáček expert Jiří Bĕlohlávek, who currently serves as chief conductor of the BBC Symphony Orchestra, makes his Company debut leading the San Francisco Opera Orchestra and Chorus. This production marks the fourth time San Francisco Opera has performed The Makropulos Case including its 1966 United States premiere with Marie Collier in the title role.
Internationally known for the beauty and versatility of her lyric voice as well as her intense dramatic portrayals, soprano Karita Mattila returns to San Francisco Opera for her third role debut with the Company as Emilia Marty. Mattila made her San Francisco Opera debut in 1989 as Ilia in Idomeneo and returned in 1993 as Eva in Die Meistersinger von Nürnberg; in 1996 as Elsa in Lohengrin (role debut); in 2002 as Katerina in Kát'a Kabanová (role debut) and in 2006 in the title role of Manon Lescaut. In addition to her many roles by Puccini, Strauss, Beethoven, Mozart, Verdi, Tchaikovsky and Wagner, Mattila displays a unique mastery of Janáček's music. Recent credits include the title role of Kát'a Kabanová at the Metropolitan Opera, Lyric Opera of Chicago, Madrid's Teatro Real, and Helsinki Opera; and the title role of Jenůfa at Los Angeles Opera, the Metropolitan Opera, the Théâtre du Châtelet in Paris, and the Royal Opera, Covent Garden.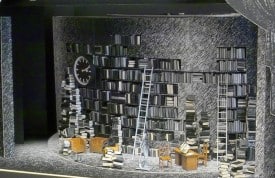 Tenor Miro Dvorsky returns to San Francisco Opera as Albert Gregor, a role he recently performed at Milan's La Scala. Dvorsky has previously appeared at San Francisco Opera as Alfredo Germont in La Traviata (2004) and Mario Cavaradossi in Tosca (2004). Other recent performances include Laca Klemeň in Jenůfa at La Scala and Hamburg State Opera, Macduff in Macbeth at Florence's Maggio Musicale Festival and Hamburg State Opera, and B.F. Pinkerton in Madama Butterfly at Teatro Verdi Trieste. Bass-baritone Gerd Grochowski makes his San Francisco Opera debut as Baron Jaroslav Prus, a role he has previously performed in Madrid and Stuttgart. Grochowski frequently appears in leading roles in Wagner's Lohengrin, Tristan und Isolde, Götterdämmerung and Der Fliegende Hollander, and has previously performed Janáček's final opera, The House of the Dead, in Aix-en-Provence, Amsterdam and Vienna. Former Adler Fellow Dale Travis, who has performed in more than thirty productions with the Company, returns as Dr. Kolenatý.
These performances are dedicated to the memory of former San Francisco Opera Principal Guest Conductor Sir Charles Mackerras, who passed away in July 2010. Renowned for masterful interpretations of the works of Janáček and Dvořák, Mackerras led the Company's most recent production of The Makropulos Case in 1993.
Sung in Czech with English supertitles, the six performances of The Makropulos Case are scheduled for November 10 (7:30 p.m.), November 13 (8 p.m.), November 16 (8 p.m.), November 20 (8 p.m.), November 24 (7:30 p.m.) and November 28 (2 p.m.), 2010.
THE MAKROPULOS CASE: PRODUCTION INFORMATION

THE MAKROPULOS CASE by Leoš Janáček NEW PRODUCTION PREMIERE
November 10 (7:30 p.m.), 13 (8 p.m.), 16 (8 p.m.),
Co-Production with Finnish National Opera 20● (8 p.m.), 24● (7:30 p.m.), 28● (2 p.m.), 2010

Libretto by Leoš Janáček
Approximate running time: 2 hours, 30 minutes with one intermission
Sung in Czech with English supertitles
First Performance: Brno, December 18, 1926
First SFO Performance: November 19, 1966 (first U.S. performance of the work)
Most Recent SFO Performances: October 1993

Cast: Production Team:
Emilia Marty Karita Mattila ♪ Conductor Jiří Bělohlávek*
Albert Gregor Miro Dvorsky Director Olivier Tambosi
Baron Jaroslav Prus Gerd Grochowski* Production Designer Frank Philipp Schlössmann
Doctor Kolenatý Dale Travis ♪ Lighting Designer Duane Schuler
Vítek Thomas Glenn ♪ Chorus Director Ian Robertson
Kristina Susannah Biller*†♪
Count Hauk-Šendorf Matthew O'Neill ♪
Janek Brian Jagde*† ♪
A Stagehand Austin Kness†
A Chambermaid, Maya Lahyani†
A Cleaning Woman

* San Francisco Opera Debut ♪ Role Debut † Current Adler Fellow ● OperaVision performance