San Francisco's African-American Shakespeare Company continues its 16th season with Cinderella. This timeless tale, brought to whimsical, magical life just in time for the holiday season, is an uplifting re-telling of the classic fairytale, featuring all of the pageantry, hilarity, and charm of the original, but with a soulful twist.
Renowned Bay Area actress and director Velina Brown, known for her work with the irreverent San Francisco Mime Troupe, helms this new edition of Cinderella, the company's 10th annual holiday production, playing December 3 through 19.
This heartwarming story finds Cinderella, a young, beautiful dreamer, toiling away as a lowly scullery maid for her evil stepmother and beautiful stepsisters. With the help of a fabulous Fairy Godmother who makes the magic happen, Cinderella finds her Prince Charming and learns that anything is possible, even miracles. Giving a new spin to the old adage "pretty is as pretty does," this new version of Cinderella is a funny, inspirational holiday treat for the entire family.
The rags-to-riches story we know today as "Cinderella" can be traced to many stories and legends dating back to ancient China; today, some 1,500 variations of the story exist. The themes from the story appear in the folklore of many cultures, but the tale always centers around a kind but persecuted heroine who suffers at the hands of her stepfamily. In the 9th-century folk story Yeh-Shen, a stepmother and two stepsisters humiliate a hard-working girl, but when a 10-foot fish gives her food, a beautiful dress and tiny slippers, she gains confidence. Charles Perrault's French version of the tale, which was written to entertain the 17th-century court of Louis XIV, is the basis for the Western versions of the Cinderella tale, and is the most popular version of the story. Germany's Brothers Grimm published their version, Aschenputtel, in 1812, but took a decidedly more gruesome take on the tale. Disney's 1950 classic animated film gave Perrault's tale new life, adding a supporting cast of animals and a score of catchy songs.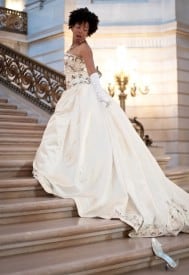 Featuring a cast of 20, African-American Shakespeare Company has assembled a gifted ensemble for Cinderella, including: Khamara Pettus (Cinderella); Tracy Camp (Fairy Godmother); Natasha Noel (Evil Stepmother); Matt Jones (Prince Charming); Beverly McGriff (Evil Stepsister); Leslie Ivy (Evil Stepsister); Jim D. Lockett (Duke); Belinda Sullivan (Grandmother).
Velina Brown makes her directorial debut at African-American Shakespeare Company with Cinderella. Brown's directing credits include productions at Brava Theater, Word for Word, Eureka Theatre, the NYC Fringe Festival, and the Toronto Fringe Festival, among others. Acting credits include productions at SF Playhouse (Abraham Lincoln's Big Gay Dance Party), American Conservatory Theater (A Streetcar Named Desire, A Christmas Carol), Berkeley Repertory Theatre (The People's Temple), Magic Theatre, Word for Word, Lorraine Hansberry Theatre, and TheatreWorks, among others. Since 1992, Brown has been a part of the Tony and OBIE Award-winning San Francisco Mime Troupe. Film credits include MILK with Sean Penn and Josh Brolin, Bee Season with Richard Gere, and television roles on Nash Bridges and Trauma, among others; she pens a monthly column in Theatre Bay Area called "The Business of Show Biz."
African-American Shakespeare Company was introduced in 1994 to create an opportunity and a venue for actors of color to hone their skills and talent in mastering some of the world's greatest classical roles. The company is dedicated to producing classic stage works from an African-American cultural perspective, providing opportunities and accessibility for minority artists and their communities to view these works in a manner that is inclusive of their cultural heritage. African-American Shakespeare Company has produced over 30 productions, toured to over 97 schools, and reached over 105,000 patrons through its mainstage productions and arts education program.
Cinderella

African-American Shakespeare Company
San Francisco

SHOWS:

Opening: Friday, December 3, 8pm (also press opening)

Saturday, December 4, 3pm

Saturday, December 4, 8pm (Gala performance)

Sunday, December 5, 3pm

Friday, December 10, 8pm

Saturday, December 11, 3pm

Saturday, December 11, 8pm

Sunday, December 12, 3pm

Friday, December 17, 8pm

Saturday, December 18, 8pm

Sunday, December 19, 3pm

WHERE:

African American Art & Culture Complex, 762 Fulton Street, San Francisco, CA

TICKETS:

For tickets ($10-$30; special gala event $50) and information, the public can call