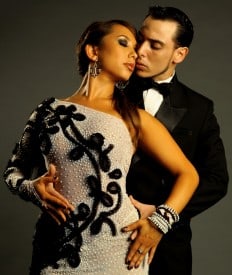 Ring in the New Year with a special 9 p.m. performance of the internationally celebrated dance spectacular Luis Bravo's Forever Tango, starring Cheryl Burke, two-time Dancing with the Stars champion and Bay Area native.
Created and directed by Luis Bravo, Forever Tango features a world-renowned cast of dancers and musicians who bring an intoxicating sense of excitement and passion to the stage. Through music, dance and vignettes, the production traces the tango's colorful history, from its beginnings in turn-of-the-century Buenos Aires bordellos to its acceptance into high society. Sensuous and sophisticated, the tango inhabits a world where everything can be said with the flick of a leg, the tug of a hand, the tap of a foot and the arch of an eyebrow.
Forever Tango's cast includes 14 world-class dancers, a vocalist and an 11-piece, on-stage orchestra, anchored by the bandoneón, the accordion-like instrument that is the mainstay of tango music. The Forever Tango orchestra boasts four of only 200 bandoneón players known worldwide. The dances, performed to original and traditional music, are the result of collaboration between each couple and director/creator Bravo.
Forever Tango will play San Francisco's Marines' Memorial Theatre for a limited engagement beginning Tuesday, December 21, 2010 and running through Sunday, January 9, 2011. Regular performance tickets range in price from $45 – $100; special New Year's Eve tickets range in price from $100 – $250 and are available now at the Marines' Memorial Theatre box office, by phone at 415-771-6900 and on the web at www.marinesmemorialtheatre.com.
FOREVER TANGO

New Year's Eve ticket options:

A. $100 ticket includes performance at 9 p.m., a glass of champagne and party favors in the theatre lobby.

B. $165 ticket includes performance at 9 p.m., a post-performance party with the cast of Forever Tango on the 10th, 11th and 12th floors of the Marines' Memorial Club. Party includes an open bar until 1 a.m. and dancing on all three levels – 10th and 11th floor will feature live bands; 12th floor will feature a DJ.

C. $250 ticket includes a 4-course pre-show dinner at 7 p.m. in the Leatherneck Steakhouse located on the 12th floor of the Marines' Memorial Club, performance at 9 p.m. and a post-performance party with the cast of Forever Tango on the 10th, 11th and 12th floors of the Marines' Memorial Club. Party includes an open bar until 1 a.m. and dancing on all three levels – 10th and 11th floor will feature live bands; 12th floor will feature a DJ.

Pre-fixe menu includes:
▪ Open bar with wine service

▪ Assorted chefs canapés; Scottish smoked Salmon with dill egg salad in a potato gaufrette basket, garnished with pickled radishes, beets, red onions, crème fraiche and caviar

▪ Pan seared filet of beef and prawns topped with a black truffle butter, Roquefort duchesse potatoes and julienne vegetables

▪ Chocolate bomb, dark chocolate mousse and marinated cherries crème brulee, crispy hazelnut bottom; Assorted macaroons