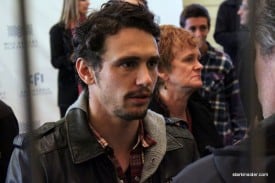 James Franco, who grew up in Palo Alto, was in town to promote his new film, 127 Hours, directed by academy-award winner Danny Boyle (Slumdog Millionaire). Based on the true story of a mountain climber who had to survive after becoming stuck under a boulder in a canyon in Utah, the film premiered at the Mill Valley Film Festival as part of the closing night festivities. Franco, casually dressed in leather jacket and jeans, appeared genuinely thrilled to see all the fans that turned out for his red carpet appearance and spotlight tribute.
"I did a lot of things!" he said when asked about his preparation for the physical role. "I met with Aron Ralston the guy who lived through this, I went on a diet, I went to climbing gyms. Aron showed me videos he made when he was stuck."
127 Hours has been receiving considerable attention, largely because it's the follow-up to the blockbuster Slumdog Millionaire which earned Boyle the Oscar for best director. But also due to a fair amount of focus on its graphic depiction of the extreme measures Aron Ralston (on whom the film is based) took to save himself from certain death.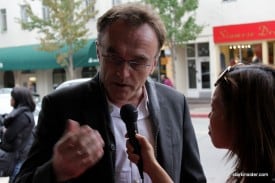 After the screening, Boyle defended the scenes, noting that in Ralston's book the ordeal took over 40-minutes and was a pivotal moment which "opens up a door to somewhere else." Indeed, at the Christopher B. Smith Film Center, at least one person apparently feinted and had to quickly depart, causing a minor commotion mid-way through the film.
"It was very much like Aron [Ralston] describes in his book," said Danny Boyle. "When I read it I thought we've got to bring it to the audience… it's not sensationalized nor is it trivialized."
During shooting, Boyle had a mantra that crew and staff would repeat daily: they were making, "an action movie where the hero can't move."
With a film, a new book (Palo Alto Stories), a TV gig (General Hospital), paintings, and numerous projects in the works, possibly even including an art installation of some kind, it was somewhat amazing that James Franco had time to field questions on stage after the film with Zoe Elton, director of programming for MVFF. During the filming of the well-received James Dean television movie, the actor imposed a one hour per week conversation with his girlfriend so he could get deep into character. Growing up, he said that posters of famous actors adorned his walls including one of Johnny Depp. "It's weird," he said, reflecting on his childhood room.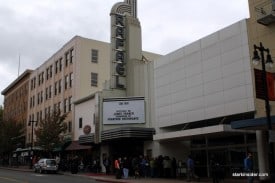 Later, Franco's Mother (and General Hospital co-star) joined him on-stage to present him with the festival award, but not before a heartfelt and emotional story. It seems that the Palo Alto Police are on a first name basis with Franco's parents, who live in the area, and are both graduates of Stanford University.
"I'm very glad to be James Franco's mother," said Betsy Franco. "He really did it. And I'm very very proud of you."
Joining Franco to promote the film were energetic and talkative director Danny Boyle, and producer Christian Colson (best picture Oscar in 2008 for Slumdog Millionaire).
(with Loni Kao and Clinton Stark contributing from Marin)