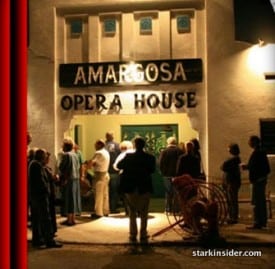 If These Walls Could Talk is a permanent exhibition/painting work by artists Marta Becket and a dance work/event by Sandy Scheller. The show features video moments of Marta Becket as she explains the different murals in the Opera House that she painted from 1968-1972 along with Sandy Scheller, a professional mime and dancer, performing live on Marta Becket's stage and incorporating the murals.
The story of the murals is told in flamenco, jazz, ballet, gypsy and mime along with character animation. Last year word got out that the Opera House was alive with Sandy's one woman show.
Although Ms. Becket no longer dances on toe at 86 years old, she continues to paint and inspire her dear friend and costume mistress, Sandy Scheller. The two have collaborated creating a modern contemporary fusion of history, time and place along with the vision for the Opera House, which Ms. Becket has dedicated her life to.
This iconoclastic modernist woman discovered what is now the Amargosa Opera House and Hotel in 1967 while traveling across the desert. Before coming to Death Valley Junction Ms. Becket performed as a ballerina in New York and on Broadway as a Rockette at Radio City Music Hall. Later on she appeared in Showboat, A Tree Grows in Brooklyn and Wonderful Town. She was a model in Vogue Magazine and illustrated Balanchine's Book. Marta's paintings are considered to be great works of art becoming rare collector items and featured in museums.
Marta toured the country performing one-woman shows. While having a tired repaired at the junction, Marta peaked in the Town Hall and realized she was looking at her destiny. This was going to be the greatest canvas of her life. As Marta painted the murals of her Opera House she created her own audience that approved to herself and her own for many years alone. Little by little word got out that there was a real dancer in the desert who was working with no audience what so ever except to her own self.
Her life as a dancer, choreographer, painter and creator of one woman shows makes Ms. Becket one of the world's most unique classic, American, modernist artists of our time.
When Becket, fell and broke her hip last October, Death Valley Junction's dancing desert spirit momentarily went silent. Then a great thing happened. As if the ghosts of the opera house had been watching all along, Becket's friend Sandy Scheller stepped in and took the stage: Not as Becket's replacement, but as an extension of that blithe spirit.
Sandy is no stranger to the arts. She toured the country as a mime along with being featured on Sesame Street, Reading Rainbows, performing in music videos and commercials. One such video, Lifted by Lighthouse Family was filmed in the Opera House 16 years ago. This was Sandy's introduction to the Opera House.
She works with costumes at Cirque Du Soleil when not at the Opera House. Her one-woman mime show, THERE'S MORE TO MIME THAN JUST A WHITE FACE educates on the importance of reading. She studied mime and flamenco dancing in America and Europe. She was the top female mime at the National Mime Festival. She speaks German, Russian, Spanish along with English but non verbal communication is her favorite way to communicate. She is an accomplished glass artists along with oil painter.
To discover Amargosa Opera House is an experience that needs to be seen at least once in a lifetime. Once you've discovered this middle of nowhere, one realizes that they are in the middle of the art and culture capitol of the world.
Sandy Scheller's creation of IF THESE WALLS COULD TALK, bring the painted walls created by Marta to life through mime, flamenco, music in 5 languages, drama, comedy and video with Ms. Becket, explaining and even dancing on toe. Sandy and Ms. Becket continue to perform together on Sundays. Marta has become ageless with her creativity and ability as an artist but last years hip injury has slowed her down as a dancer, although this does not stop her from collaborating with Sandy who has made a commitment to keep Marta Becket's dream alive and the doors of the Opera House open with life shows as Marta has done for 45 years.
Every performer must have an audience and Marta's consisted of the murals. For many years Marta's only audience was the murals that she created.
For more information about Amargosa and experiencing this very unique world of art, culture and beauty contact Rich Regnell, operations director 760-852-4441 or visit www.amargosaoperahouse.com
'If These Walls Could Talk'

(A Permanent American Historic Exhibition & Dance Premier)

Date: Opening & Premier October 30 2010 7pm

Dance Performance Run: Weekly thru May 1 2011
Saturdays 7:00pm Sundays 2:00pm

Location: Amargosa, Death Valley California, USA
The 'Opera House'
Update

StarkSilverCreek is now Stark Insider.

See a show. Enjoy life. Come back soon.