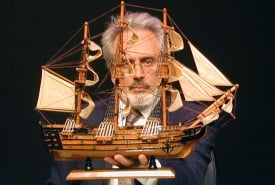 San Francisco's Cutting Ball Theater opens its 11th season with a distinctive take on Shakespeare's The Tempest. Cutting Ball Artistic Director Rob Melrose helms this compelling tale of betrayal, revenge, and redemption in one of Shakespeare's most magical and romantic plays. David Sinaiko, Caitlyn Louchard, and Donell Hill, who were featured in last season's hit production of The Bald Soprano, return to the company for the production.
Prospero was the Duke of Milan until his brother Antonio usurped his position. Kidnapped and left to die on a raft at sea, Prospero and his daughter, Miranda, survived. After 12 years, fortune has at last sent his enemies his way, and the exiled Duke of Milan uses sorcery to cause a storm, shipwrecking his treacherous brother, and company, on the enchanted isle he now calls home. But magic works both ways in this tale when the creatures of the island turn against Prospero and his daughter falls in love with his enemy's son. In the tradition of Cutting Ball's uniquely San Franciscan version of The Bard's The Taming of the Shrew and expressionistic Macbeth, Cutting Ball's three-person chamber version of The Tempest promises to give an up close and personal look at the monsters lurking inside all of us.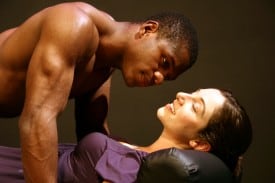 "Why mess with Shakespeare? Our version of The Tempest aims to illuminate the many connections between the characters and take more risks with Shakespeare's text and words," said Cutting Ball Artistic Director Rob Melrose. "We are looking to present a contemporary interpretation of the play that is in conversation with Sigmund Freud, Carl Jung, and the dream-like dramaturgy pioneered by August Strindberg, now found in the films of David Lynch (Lost Highway, Mullholland Drive), Tarsem Singh (The Fall, The Cell), and Christopher Nolan (Inception, Memento), as well as the novels of Haruki Murakame (Kafka on the Shore, The Wind-up Bird Chronicle) and video installations of Bill Viola."
Continues Melrose, "For 10 years, Cutting Ball has re-envisioned classic works. Our goal is to create productions that focus on particular themes or obsessions within a play that an audience member might not see in a more conventional production. We feel very fortunate to have found an audience who has been willing to go on these risky explorations with us."
Associate Artist David Sinaiko (Prospero/Alonzo/Stephano) returns to Cutting Ball Theater in The Tempest. He most recently appeared in the company's productions of Krapp's Last Tape.
Also featured are Cutting Ball Associate Artists Caitlyn Louchard (Miranda/Ariel/Gonzalo/Sebastian/Trinculo) and Donell Hill (Ferdinand/Caliban/Antonio), who were featured in last season's acclaimed production of The Bald Soprano.
Next the company will stage Eugenie Chan's retelling of the Ariadne myth Bone to Pick, which received its World Premiere in Cutting Ball's 2007-2008 season as part of Avant GardARAMA!
Co-founded in 1999 by theater artists Rob Melrose and Paige Rogers, Cutting Ball Theater presents avant-garde works of the past, present, and future by re-envisioning classics, exploring seminal avant-garde texts, and developing new experimental plays.
The Tempest

Cutting Ball Theatre
277 Taylor Street, San Francisco

November 5 through 28 (Press opening: November 11)

Tickets ($15-50)

cuttingball.com, 800-838-3006
Photos by Rob Melrose.