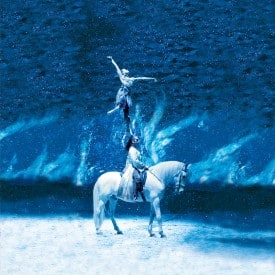 Cavalia: A Magical Encounter Between Horse and Man, a lavish multi-media production created by Normand Latourelle, one of the founders of Canada's famed Cirque du Soleil, comes to San Francisco, Tuesday, November 16, 2010 under the White Big Top adjacent to AT&T Park. Cavalia made its U.S. premiere in San Francisco in 2004, where it played to sold-out houses.
Constantly evolving, the current production is nearly double in size from the original, and showcases new artists, new horses, and entirely new acts never before seen in America, including Sylvia Zerbini, the only woman in the world who works with nine Arabian horses, unbridled, in a liberty act of breathtaking beauty.
Since the original production debuted in 2003 in Quebec, Canada, Cavalia has been enjoyed by more than 2.5 million people in North America and Europe. An extravagant production involving over 100 performers, including 50 magnificent horses from all over the world, riders, aerialists, acrobats and dancers, as well as musicians and a vocalist, Cavalia celebrates the relationship between humans and horses, reinventing the equestrian and performing arts. In Cavalia, horses cavort with the artists in front of a constantly changing background digitally projected onto a 200-ft. wide screen, drawing spectators into dream-like virtual environments.
In a show literally unlike any other, Cavalia's audience faces a single, 160-ft. wide stage which allows the horses space to gallop at full speed, at times running completely free, unfettered by bridles or halters. Cavalia takes place under the world's largest touring tent – a white, 26,264-sq. ft. big top rising some 100 feet high, giving the horses an ample playground to have fun with their trainers and the artists.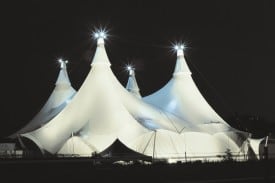 Cavalia's horses are trained based on a philosophy of understanding the horse, rather than requiring the horse to understand the human beings around it. The tone of the show, embraced by the entire Company, is one of respect, kindness, patience, and trust. Audiences have found Cavalia exhilarating in scope, yet touching in the compassion and mutual respect shown by both horse and human.
Normand Latourelle is the visionary and creator behind Cavalia. Since co-founding Cirque du Soleil in 1985, introducing Cirque du Soleil to San Francisco in 1988 and bringing Cavalia to San Francisco in 2004, Mr. Latourelle has become renowned for his adventurous, mammoth, and innovative productions taking spectators to new realms. Said Mr. Latourelle, "Horses have enormous presence on stage. Cavalia is a result of a 10-year quest to find a dramatic way to incorporate the power of horses and their mysterious beauty into a captivating multi-media experience. My passion in life is to make people dream. Cavalia honors the mystique of horses, their ability to connect uniquely with human beings and their extraordinary achievements across our history."
Cavalia: A Magical Encounter Between Horse and Man

WHAT: Cavalia is an extravagant production involving over 100 performers, including 50 magnificent horses from all over the world, riders, aerialists, acrobats and dancers as well as musicians and a vocalist. A show literally unlike any other, Cavalia celebrates the relationship between humans and horses, reinventing the equestrian arts.

WHEN: Premieres November 16, 2010 – show days/times available at www.cavalia.net

WHERE: White Big Top, adjacent to AT&T Park

TICKETS/INFO: For information on regular tickets, plus special packages visit www.cavalia.net