The award-winning biomedical thriller, Secret Order, directed by Chris Smith at the San Jose Repertory Theatre highlights the exciting intersection of science, ambition and ability. Enhancing the intensity of this experience, artwork by two local artists is being featured throughout the play's run, October 14 – November 7, 2010, on the second floor of the San Jose Repertory Theatre at 101 Paseo de San Antonio in downtown San Jose.
The Rep's second-floor lobby showcases pieces from Ketra Oberlander's new World of Color series, a gray-scale examination of absence amidst abundance and how her limited remaining vision fits in an environment imbued with rich color.
"Beyond the big themes of navigating loss, disability and achievement, I wanted to paint subjects in which I take pleasure," said Oberlander. "My work complements Secret Order's investigation of invention and drive. People face a lot of problems that can't be solved, but if you discover you can solve a problem, to do anything less than everything to make that solution manifest may just well be a true sin."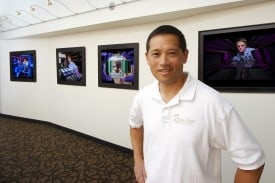 A Santa Clara resident, Oberlander is a nationally recognized blind artist. Her pioneering company, Art of Possibility Studios, creates a path to profitability for physically disabled artists. Her work has drawn the attention of Business Week, The New York Times, the Huffington Post and KGO-TV News. Her fine art has twice been featured on ABC-TV's Extreme Makeover: Home Edition and her stationery and fabric lines have been shown on FX's Damages in 2010.
Randy Wong began his career as a professional photographer in 1980, and he now owns and operates a studio in Pleasanton. His commercial clients include Lucent Technologies, Microsoft, Toyota Motor Company and Sandia National Laboratories, for whom he captures their researchers using the latest equipment and technology. Utilizing state of the art equipment and software, all of his images are produced in house from conception to final print. Wong was recognized as San Francisco Bay Area Commercial Photographer of the Year in 2008 and 2009.
Secret Order, a stimulating biomedical thriller, delves into the moral and ethical dilemmas involved in scientific research. When Dr. Shumway, a relatively obscure and naive cancer researcher, is thrust into the high-stakes world of science, the notion of noble "truth-seeking" is dissected with a scalpel's precision. Shumway is in over his head when he and a young student researcher get swept up in the dangerous world of political maneuvering, corporate loyalty and scientific ethics. But it's Dr. Brock, the chief administrator at a famous research institute, who will stop at nothing in his pursuit to find a cure for cancer. When Shumway's promising research runs into problems, responsible science hangs in the balance.