American Conservatory Theater announced it will carry on its tradition with Charles Dickens classic A Christmas Carol, adapted by Carey Perloff and Paul Walsh and directed by acclaimed Bay Area director and actor Domenique Lozano.
A.C.T.'s A Christmas Carol stars Bay Area favorite James Carpenter, returning for his fifth year in the iconic role of Scrooge. A.C.T. core acting company member Jack Willis reprises his audience favorite turn as the Ghost of Jacob Marley, Scrooge's nightmarish late-night visitor, alongside many Bay Area favorites: Steven Anthony Jones, Sharon Lockwood, Delia MacDougall, Jarion Monroe, Nicholas Pelczar, and Howard Swain.
"Dramatizations of A Christmas Carol have become an important American family ritual at holiday time, regardless of individual religious background or faith. Parents and grandparents have told us that the Carol experience is more important than ever," says A.C.T. Artistic Director Carey Perloff. "With everyone tightening their belts at this time, we are so proud that A.C.T. can continue to be a part of Bay Area families' holiday traditions."
Originated in 2004, this version of A Christmas Carol, adapted by Paul Walsh and Carey Perloff, stays true to the heart of Dickens's timeless story of redemption and brings a playful sensibility to his rich language. Each of the four ghosts that haunt the miser Ebenezer Scrooge and lead him to his transformation is theatrically staged: a children's favorite, Scrooge's former business partner, Jacob Marley (Willis), clad in chains, climbs out of Scrooge's bed; the Ghost of Christmas Present (A.C.T. favorite Steven Anthony Jones) is a Bacchic spirit of fecundity and abundance, robed in striated green velvet; the Ghost of Christmas Past (member of the A.C.T. M.F.A. Program class of 2011 Marisa Duchowny, in her A.C.T. mainstage debut) is a candle, "lit from within, emanating radiance, who descends on a swing," says Perloff; and the Ghost of Christmas Future is a giant black ghost puppet that takes over the entire stage of the American Conservatory Theater. Dickens's lovely descriptions of the abundance of Christmas bounty are staged as "The Waltz of the Opulent Fruit," with six young actors taking on the roles of French plums, Turkish figs, and Spanish onions, to the delight of audiences.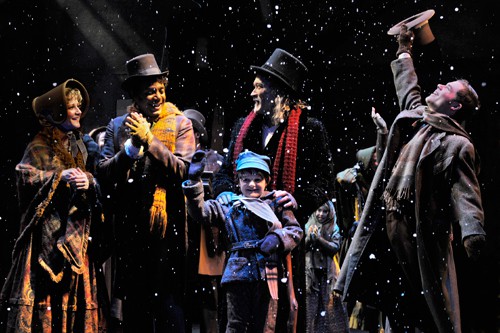 Perloff adds: "Dickens believed that triggering the imagination is the key to triggering change in a person's heart. Scrooge's remarkable transformation is brought about by three ghosts. Ghosts! Dickens realized that if Scrooge's imagination could be stimulated, it would be possible for him to wake up on Christmas morning an entirely new man. What an incredible endorsement of the power of art."
Now in its 34th year at A.C.T., A Christmas Carol is a cornerstone of the A.C.T. repertory and has become a holiday tradition for families from all around the Bay Area. Performed to date nearly 1,000 times to a collective audience of more than 800,000, A Christmas Carol has employed nearly 1,000 actors and 600 backstage staff. "I adore this play," says director Lozano. "It's a thrill to work on this story, which is about community, with a community of artists for whom it is tailor-made."
A Christmas Carol

American Conservatory Theater (A.C.T.), San Francisco

December 2–24, 2010

Scrooge is back, and he's meaner than ever in A.C.T.'s A Christmas Carol, the Bay Area's favorite holiday tradition. Featuring adorable Tiny Tim, those deliciously spooky Christmas ghosts, and a multigenerational cast of dozens, A Christmas Carol is a sparkling, music-infused celebration of goodwill that your family will never forget.

by Charles Dickens
Adapted by Carey Perloff and Paul Walsh
Music by Karl Lundeberg
Choreography by Val Caniparoli
Directed by Domenique Lozano
Musical direction by Robert Rutt

Designed by John Arnone (scenic designer), Beaver Bauer (costume designer), Nancy Schertler (lighting designer), Jake Rodriguez (sound designer)

Starring James Carpenter as Scrooge

A.C.T. is committed to making this family-oriented classic affordable for the Bay Area community by offering discounted family four-packs and special group discounts. With a family four-pack, a family (or group) of four can attend select performances of A Christmas Carol for the price of two tickets—as low as $34.