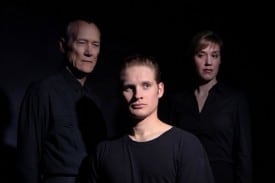 Marin Theatre Company announced that it will stage the world premiere of 9 Circles, the newest play by Equivocation playwright Bill Cain. 9 Circles is the riveting story of a young American soldier on trial for his life. San Francisco favorite Kent Nicholson returns to the Bay Area to direct 9 Circles in MTC's intimate 99-seat Lieberman Theatre. 9 Circles runs October 14 through November 7, 2010. Opening night is October 19.
"The MTC artistic staff was astounded by the power and grace of 9 Circles—it was our unanimous choice for the 2010 Sky Cooper New American Play Prize. Mr. Cain's highly theatrical vision, so evident in Equivocation, is again on dazzling display," said MTC Artistic Director Jasson Minadakis.
In 9 Circles, Daniel Reeves is arrested and prosecuted after being honorably discharged for acts that he may have committed during the war. Thrown into a labyrinth of military bureaucracy, the confused and troubled teenager tries to navigate through layers of commanding officers, public defenders, lawyers, preachers, and army psychiatrists. This dramatic, compelling, and visceral thriller inspired by actual events will be the most talked-about world premiere of the season.
"9 Circles is very close to my heart." says playwright Bill Cain. "It's the journey of a young man who comes to understand who he is and what he has done, and that he can be empathetic with what he once thought was his enemy. It's the story of a young man who achieves greatness by doing the one necessary thing—becoming himself."
Bill Cain's Equivocation was awarded the 2010 Steinberg New Play Award and broke MTC box office records in its Bay Area premiere earlier this year. It received its world premiere at the Oregon Shakespeare Festival in 2009, with subsequent productions in Seattle, Los Angeles, and New York. His widely produced play Stand-Up Tragedy earned six LA Critics Awards in its premiere at the Mark Taper Forum, four Helen Hayes Awards at Arena Stage in Washington, DC, and the Joe A. Callaway Playwriting Award for its 1990 Broadway engagement. He has won many awards for his film and television work. He is the founder of the Boston Shakespeare Company, where he was Artistic Director for seven seasons.
Director Kent Nicholson previously directed the 2009 hit production of Jacques Brel is Alive and Well and Living in Paris and The Good German in 2007 at MTC. He has extensive Bay Area credits including work with Aurora Theatre, Crowded Fire, Encore Theatre, Magic Theatre, and TheatreWorks. He is currently the Director of Musical Theater at Playwrights Horizons in New York.
Craig Marker, who appeared in Equivocation, returns to MTC as Daniel Reeves in 9 Circles. Bay Area stage veteran James Carpenter will play multiple roles, as will Jennifer Erdmann, who makes her MTC debut. Aldo Billingslea will understudy for Mr. Carpenter.