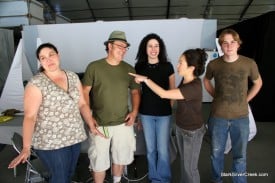 How do you build your own world? Our search for answers–or at least clues–continues at the 01SJ Biennial (by Zero One) here in San Jose, as we talk with the artists who are working feverishly in the South Hall to bring their projects to life.
It's a dramatic scene, as 80,000 square feet of space fills up with all manner of inventions, artworks, machines, sculptures.
With one day to go until the 01SJ opening ceremonies, Loni meets up with a team working on a project that examines gender equality.
Called Trading Voices (2010), it's a video intensive dialogic project that actively collects, remixes and publishes oral stories relating to UN Millennium Development Goal 3 (Promote Gender Equality and Empower Women). These stories will be contributed by people from as many different generations and cultures as possible.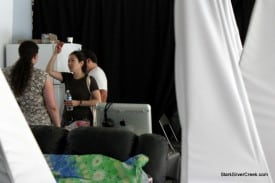 Each participant will speak on video and then read a few things given earlier by another person unlike themselves also on video. In this way the participants have unique opportunity to identify with another person different from themselves and literally tell us another person's story. The team believes it is very powerful to encourage people to advocate for people unlike themselves.
"I've been really surprised and delighted," said DC Spensley from the CADRE Laboratory for New Media. "We've had some of the toughest guys you've seen, with the tattoos, and goatees, saying the most incredibly reverent things I've ever heard."
Everyone gets to tell their own story and also step into someone else's shoes.
As you'll see in this video segment, the Trading Voices team wins the award (so far) for most team spirit…!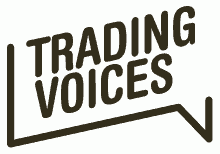 The CADRE Trading Voices team is made up of Jenene Castle, DC Spensley, Danielle Siembieda, Sara Gevurtz, Ali Sajjadi, Nancy Sevier, Maayan Koren, James Morgan, James Stone, Yumika Tanaka, Ryan Carrington, Laura Mappin, Tariq Abdul-Wahad, and Alex Gibson.
Thanks to Clinton Stark and Loni Kao for input on this story.