Guest post by Pat Reardon.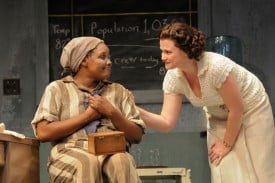 The African Mende tribe has a proverb, "You know who a person really is by the language they cry in." In Black Pearl Sings!, that language is music in its most soul stirring form. Black Pearl is an homage to American folk music and the people and history that crafted this treasured heritage.
This play is inspired by the relationship between the acclaimed American folk music archivist, John Lomax and Huddie "Leadbelly" Ledbetter. Lomax first met Leadbelly in a Texas prison and spent years preserving, along with others, Leadbelly's music. These archives included historical American worksongs, ballads and blues.
Working in the early 1930s, Susannah Mullally (Jessica Wortham) is a musicologist working for the Library of Congress preserving classic American folk music. To achieve her dream of securing a professorship at Harvard, she scours the south in pursuit of the one prize that might bring her the recognition that she desperately craves: a traditional song passed down from generation to generation that pre-dates slavery and traces its roots to Africa.
"Pearl" Johnson (Jeannie Jones), imprisoned for murder in Texas, has a heart full of song and a world full of trouble. The two women soon develop a highly symbiotic relationship. Susannah gets her library of archived folk music, and Pearl gains her freedom. More importantly, Pearl seizes her only opportunity to find the daughter lost to her when she was imprisoned ten years earlier.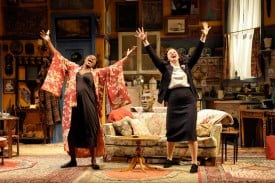 The relationship between the two women provides an framework to touch upon the universal issues of racism, sexism, stereotypes, family relationships and estrangement. The loose scripting prevents these issues from being completely explored during the evening. But, they help to provide context to a story where the music is the central force of the evening.
And the music is forceful indeed. Sung a cappella, Pearl's laments are amazing to hear. Her songs resonate with the tragic history of slavery and the pain and suffering of generations of singers. The songs pulse with the emotion of Negro spirituals. At the same time you hear the passion and the beat that is the foundation of rhythm and blues.
Jessica Worthan's Susannah is a quiet study of a woman who is smart, forceful and ambitious. She presents the archivist as a professional who believes in her craft but is willing to bend the rules to succeed in a world that has discriminated against her because she is a woman in a man's world.  Manipulative from the start, she is the perfect partner to the world-wise Pearl who, in spite of her lack of education and provincial upbringing, runs rings around her.
Jannie Jones' incredible talent soars with Pearl. She is stunning in her characterization of a woman who, although bent, is not beaten. Her strong emotional voice and her ability to glide and dance across the stage carry the entire evening.  It was a pleasure to have had the opportunity to see such an excellent performer in this vibrant role.
Kudos to Rick Lombardo and the San Jose Rep for opening its 30th year with this strong, compelling production of Black Pearl Sings!. This presentation is not to be missed by anyone who values America's musical heritage.
Black Pearl Sings!
4.5 Stars
San Jose Rep
Directed by Rick Lombardo
Written by Frank Higgins
Starring Jannie Jones, Jessica Wortham
On the web: www.sanjoserep.com