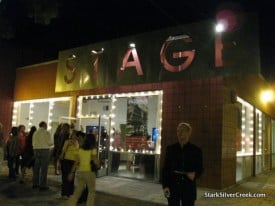 Artistic Director Randall King and The San Jose Stage company have announced their 2010-11 Season. The theme for the 28th season is "provocative, adventurous and breathtaking." Kind of like SSC. – Chris W.
Regional Premiere
REASONS TO BE PRETTY
By Neil LaBute
Sept. 29-Oct. 24, 2010
"It is tight, tense and emotionally true, and it portrays characters who actually seem part of the world that the rest of us live in".—Time
A 2009 Tony Award nominee for Best Play, Neil LaBute's bristling new comic drama puts a ferocious cap on a trilogy of plays that began with The Shape of Things and Fat Pig. America's obsession with physical beauty is confronted headlong in this brutal and exhilarating work, in which a slip of the tongue has a tsunami effect on one man's relationships, romantic and otherwise. Simultaneously sentimental and uncompromising, Reasons To Be Pretty is a gorgeous play.
Back by Popular Demand
EVERY CHRISTMAS STORY
EVER TOLD
By Michael Carleton, Jim FitzGerald & John K. Alvarez
Nov. 17-Dec. 19, 2010
"The actors in this play were so funny, their timing so impeccably perfect, that they literally killed three-quarters of the audience, whose bodies have already been donated to science for the study of comedy's lethal effects."—Metro
This fast-moving, irreverent comedy returns to The Stage for another round of extreme holiday cheer. Every Christmas Story Ever Told is a fond and furious look at the holiday classics and traditions we all remember. From Frosty to Rudolph and the Grinch to It's A Wonderful Life, no pop culture holiday icon is spared in this whirlwind of holiday merriment.
West Coast Premiere
ON THE WATERFRONT
By Budd Schulberg with Stan Silverman
Feb. 16-March 13, 2011
"It is a dazzling performance in a group show that offers not a carbon copy but an imaginative reinvention of what is an iconic movie. It makes for a gripping piece of theatre"—The Guardian
Cinematic realism gives way to dockside expressionism in this adaptation, penned by original screenwriter Schulberg shortly before his death last year. But the heart of the drama remains Terry Malloy, the ex-boxer and waterfront bum who takes on the corrupt union mafia. While the iconic film was sold to audiences as "warm and moving…but with brass knuckles," reviewers have called this reworking, which debuted at the Edinburgh Fringe Festival in 2008, "mythic" and "surreal," with all the power and pathos that first packed a punch more than 50 years ago.
World Premiere
LOLITA ROADTRIP
By Trevor Allen
April 6-May 1, 2011
San Jose Stage Company is the first recipient of a grant from the New Play Production Fund of San Francisco's PlayGround, launched to support Bay Area production of new plays by local playwrights, Lolita Roadtrip marks Trevor Allen's second world premiere with San Jose Stage Company, following the 2005 hit Tenders in the Fog.
This darkly comic play follows Julia, a rebellious Stanford graduate student researching her thesis, and Danny, a hitchhiking teenage runaway she picks up, as together they retrace novelist and lepidopterist Vladimir Nabokov's actual 1941 roadtrip from New York to Stanford. A series of cross-country adventures ensues, as they confront their own dark pasts and discover what really causes a chrysalis to transform into a butterfly.
Hot Summer Sensation
NEW MUSICAL TBA
June 1-26, 2011
Negotiations are under way for The Stage's summer musical.
(All titles and dates Subject to change).