Reasons to be Pretty, Neil LaBute's bristling new comic drama, opened this week at San Jose Stage and puts a ferocious cap on a trilogy of plays that began with The Shape of Things and Fat Pig (seen earlier in the Bay Area at Aurora Theatre in Berkeley: review and interview).
America's obsession with physical beauty is confronted headlong in this brutal and exhilarating work, in which a slip of the tongue has a tsunami effect on one man's relationships, romantic and otherwise.
On what a safe place means to him, playwright Neil LaBute told San Jose Stage in an interview: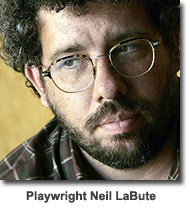 "It's the undiscovered country. "Safe" is something different to everybody and that's why it's interesting. I never want my audience to feel safe — I actively work to get them in a place that isn't so privileged, so elitist, so settled. I want them to be as actively involved in the proceedings as possible, but to remember it's all fun and games, too — theater should be a thrill ride while it lasts, just like a good roller coaster."
The cast taking The Stage for Reasons to be Pretty is anything but regular.
Robert Brewer* (Greg) returns to San Jose Stage Company, where he was previously seen as Duke in THE GREAT AMERICAN TRAILER PARK MUSICAL and Bobby Strong in URINETOWN, THE MUSICAL. Two of Robert's TRAILER PARK co-stars are with him again in REASONS: Allison F. Rich (Carly), and Halsey Varady (Steph), who also appeared with the Company in BEEHIVE and THE LONESOME WEST. Making his Stage Company debut is Will Springhorn Jr.* (Kent), who has performed with Berkeley Repertory Theatre, The San Francisco Shakespeare Festival, Magic Theatre, Marin Theatre Company and Theatre Rhinoceros.
Director Kimberly Mohne Hill returns to San Jose Stage Company after helming last season's THE SEAFARER. An Assistant Professor of Acting and Voice at Santa Clara University, she has directed several productions there. Costume designer Jean Cardinale returns to San Jose Stage Company, having previously designed costumes for DIRTY BLONDE, THE SEAFARER, THE PILLOWMAN, THE GREAT AMERICAN TRAILER PARK MUSICAL, ALWAYS…PATSY CLINE, EVERY CHRISTMAS STORY EVERY TOLD and ALTAR BOYZ.
Set designer Dylan Della Maggiora makes his professional design debut with REASONS as he continues to study theater at Santa Clara University. Sound designer Theodore J. Hulsker's previous sound design work includes ZOMBIE! A NEW MUSICAL at Exit Theatre. This is his first production at The Stage.
Previews of the regional premiere of REASONS TO BE PRETTY begin at The Stage, 490 South First Street, San Jose, on Wed.-Thu., Sept. 29 & 30, at 7:30 pm and Fri., Oct. 1, at 8 pm, with a Gala Opening on Saturday, Oct. 2, at 8 pm. Performances continue Wednesday and Thursday at 7:30 pm, Friday and Saturday at 8 pm and Sunday at 2 pm through Oct. 24, 2010. Tickets prices range from $20 – $45. Post-show discussions follow the performances on Sunday, October 10 and Thursday, October 14.
*Members of Actors' Equity Association