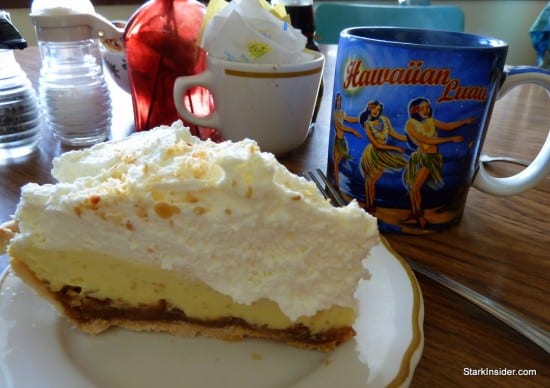 Driving back from a day at Hawai'i Volcanoes National Park to our resort on the Kona side of the Big Island, we decided a pit stop was in order to replenish our energy. In California, this may have meant stopping by a Starbucks. In Canada, Tim Horton's would be my pick. On vacation in Hawaii though, I wanted something I couldn't easily find in the SF Bay Area.
I recalled a place we notice on our way to the volcanoes that morning. I was intrigued by a sign that read, "the southernmost restaurant of US" in front of Hana Hou Restaurant & Bakery. Admittedly, as a tourist and type "A" personality, being able to check off that I had dined at the southern most restaurant in the US was an attractive proposition.
Unfortunately, in the morning we had just devoured a big breakfast (yes, papayas were involved!) and had little desire for another meal.
On a roadtrip back though, it was a different situation. Upon entering Hana Hou, I didn't get much further than the glass case of desserts on the right, gently cooling a decadent selection of desserts.
It was the fluffy Macadamia nut cream pie that caught my eye. I just had to have a slice. Coffee and a slice of pie and I happily sat down at one of the antique-looking dining tables to wait for our order to be brought over.
The pie was everything I imagined a Macadamia cream pie to be. It didn't come on a fancy dish with elaborate embellishments. It was simple and wholesome…if you could use such an adjective to describe dessert. It had delicious bits of Macadamia nuts and the custard was creamy, not too sweet so you could really appreciate the delicate flavors of custard. The thin dark caramel-like filling that lined the bottom of the crust was just the right balance to the lighter custard and the real whipped cream on top.
My grandmother's signature dessert is a peach cheese cake which I adore. However, if she were to have made Macadamia cream pie, I am sure it would be this good.
P.S. The coffee was just okay, but gotta love the mug it came in.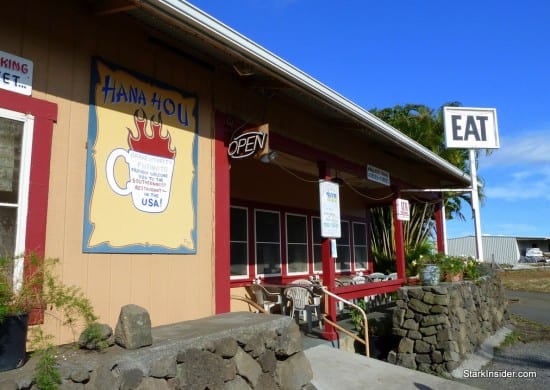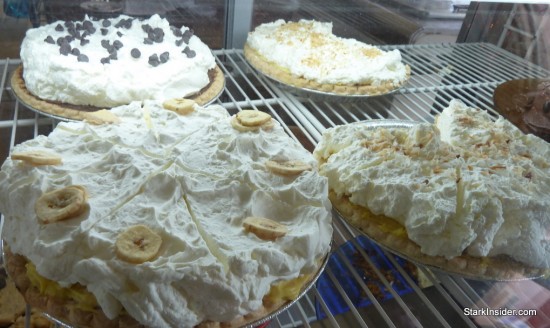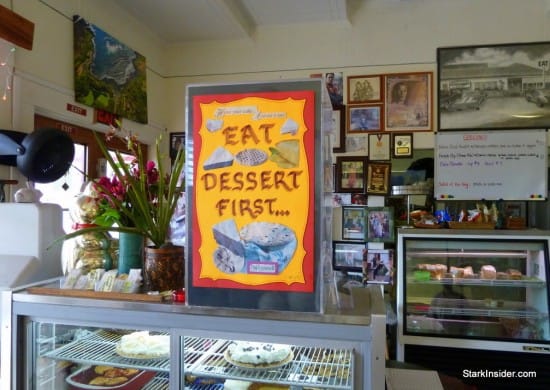 Hana Hou Restaurant & Bakery
95-1148 Spur Rd
Naalehu, HI 96772
(808) 929-9717