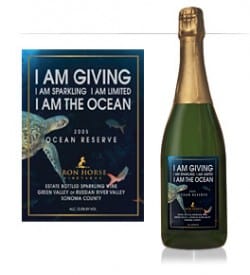 Iron Horse Vineyards is launching a vintage Sparkling Wine called Ocean Reserve in partnership with National Geographic and other organizations to help restore the ocean's health and abundance. The wine is now available and is posted on National Geographic's website www.nationalgeographic/ocean.com with a link to the Iron Horse website www.ironhorsevieyards.com.
"The ocean directly impacts our micro- climate. It creates the fog that makes our wines so distinctive. Sadly, the ocean needs help," says Iron Horse CEO Joy Sterling. "Ocean Reserve is a way of giving back."
The Sparkling is a 2005 vintage Blanc de Blancs designed by Iron Horse Winemaker David Munksgard and Washington D.C. chef Barton Seaver, Esquire 2009 Chef of the Year, now a National Geographic Fellow and champion of sustainable seafood. Iron Horse is contributing $4 a bottle to promote marine protected areas and reduce the impact of fishing practices around the world.
"Eating and drinking are full contact environmentalism," says Seaver. "It is how we participate and engage with the ecosystems that support us."
Iron Horse has created three labels, making them collectible as a set. The labels feature National Geographic underwater photographs and a high tech element on the back label that, when scanned with a free mobile phone application, instantly links to a video explaining the creation of the cuvee, the ocean's essential role in the winery's micro climate and providing sustainable seafood recipes.
"The flavors are bright, crisp, and exciting, expressing Iron Horse's proximity to the ocean," says winemaker Munskgard. "It really speaks to how the ocean affects the special taste and quality of our Sparklings."
Iron Horse is a family owned and operated vineyard and winery in the aptly named Green Valley, a special growing region that lies entirely within the Russian River Valley in Sonoma County, California, 13 miles from the coast. They are best known for their Sparklings, which have been served at the White House for five presidential administrations beginning with the Reagan Gorbachev Summit Meetings ending the Cold War.
To date, early adopters of Ocean Reserve include chefs Eric Ripert from Le Bernardin in New York, Rick Moonen of RM Seafood in Las Vegas, Providence in Los Angeles, Masraff's in Houston, Shinsei Restaurant in Dallas, select Whole Foods stores in California, Texas, Louisiana and Florida, and Lindblad Expeditions' cruise ships.
"Ocean Reserve is a sip of hope," says Sterling. "Who knew saving the ocean could be so delicious?"