Does our past define us, and at what cost? The West Coast Premiere of Black Pearl Sings!, a compelling musical drama about two extraordinary women, opens Wednesday night at the San Jose Repertory Theatre and reminds us of the healing power of music. Loni had a chance to sit down on set with the cast (Jannie Jones, Jessica Wortham) and the director (and artistic director) Rick Lombardo to discuss the show and the excitement surrounding the Rep's 30th anniversary season.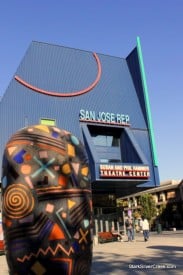 "I love American roots music", says Rick Lombardo discussing why he selected the production. "I'm a Blues musician. It came from a love for a lot of the music that we hear in the show."
Actor Jannie Jones, who plays Texas prisoner Pearl Johnson, was able to draw on her experience from living in the South. "Four of five of the songs in the show I already knew," she says. "I'm a PK… a preacher's kid."
Set in the 1930's during the great depression, not all is necessarily joyous or even politically correct.
"I can't always look at this with my contemporary mindset," says Jessica Wortham on the challenge of getting into the role. "Something completely un-PC will walk out of somebody's mouth and you're like … OH!"
But don't think there aren't laughs… and more laughs. As you'll see in this interview, chemistry is key; Rick Lombardo even shares a story about casting the leads and the surprise factor that helped to seal the deal during an audition in New York.
The opening night celebration kicks off with the sounds of a local blues band, Pearl Alley, followed by the West Coast Premiere of Black Pearl Sings!. After the show, join the post-show celebration Afters!, where drinks and sweets are served while you mingle with cast, artistic staff and fellow theatre-goers.
Black Pearl Sings!
By Frank Higgins
San Jose Repertory Theatre
Directed by Rick Lombardo
Starring Jannie Jones, Jessica Wortham
Opens: September 8, 2010

Can music transform pain into beauty and unite two strangers?

Susannah, a white, driven ethnomusicologist for the Library of Congress, is about to find out in her quest to find authentic, pre-slavery, African-American music. When she encounters Texas prisoner Pearl Johnson, an unlikely partnership develops between the street-smart Pearl and the ambitious Susannah. It isn't long before Pearl is belting out radiant, soul-baring songs with the strength and beauty of the unaccompanied human voice. These vocal artifacts remind us of the power of music to help heal in the struggle between our collective past and the desire for individual histories. Does our past define us, and at what cost?

Performing Sept 2 – Sept 26. Pay What You Will performance: Thursday, Sept 2 / 8:00 p.m. Press Opening Night: Sept 8 / 8:00 p.m. Tickets ($35 to $74) available at the San Jose Rep Box Office at 101 Paseo de San Antonio, www or by calling 408.367.7255.

Approx. Performance Run Time: 2 hours and 10 minutes, with one 20 minute intermission.

Rick Lombardo is in his third season as Artistic Director of San Jose Rep. He was previously the Artistic Director for 13 years at the award-winning New Repertory Theatre, the leading mid-size resident theatre in the greater Boston area. In 2009, he was awarded the Norton Prize for Sustained Excellence from the Boston Theatre Critics Association for his work at New Rep. He has also been the recipient of four individual Elliot Norton Awards and is a nine-time winner of the "IRNE" award for his productions of The Clean House, Sweeney Todd, Rosencrantz and Guildenstern are Dead, A Streetcar Named Desire, Ragtime, Waiting for Godot, and The Weir.

Jannie Jones (Pearl) recently received critical acclaim in the National Broadway tour of All Shook Up as Sylvia. Her Broadway and off-Broadway credits include The Full Monty, Mama I Want to Sing, and Faith's Journey. Additional credits include Hair and August Wilson's Women. Jones has toured nationally and internationally to more than 23 countries.

Jessica Wortham (Susannah) has performed in David Mamet's Boston Marriage at Capital Repertory Theatre; Green Girl at the Public Theater; The Ruby Sunrise, Merry Wives of Windsor, and A Christmas Carol at Trinity Repertory Company; Crime and Punishment, Twelfth Night, Dracula, and the Humana Festival premieres of The Ruby Sunrise, No. 11 (Blue and White) and Back Story, all for Actors Theatre of Louisville. Internationally she has appeared in Cat on a Hot Tin Roof at the English Theatre Frankfurt and Crimes of the Heart at Vienna's English Theatre.
(Thanks to Clinton Stark for input on this story)