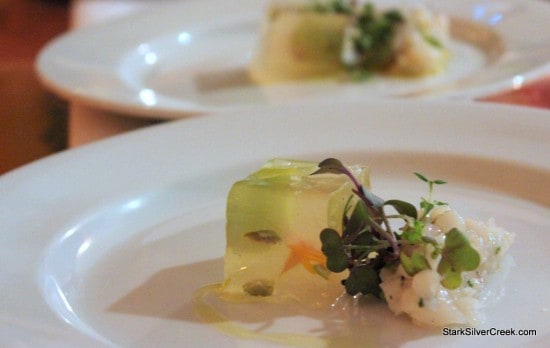 When vine-ripened and picked at its peak, heirloom tomatoes are simply the perfect muse for a summertime feast. Especially one conceived by chef and proprietor Josiah Slone of Sent Sovi Restaurant, tucked neatly in quaint downtown Saratoga. I had the pleasure of attending the Third Annual Heirloom Tomato Dinner, a five course exploration into the many ways one can prepare and pair this savory, edible fruit. A peculiar point to note here is that even though botanically the tomato is considered a fruit, for culinary purposes it is classified as a vegetable.
The evening started off with appetizers around the outside patio of the charming creme and baby blue restaurant exterior.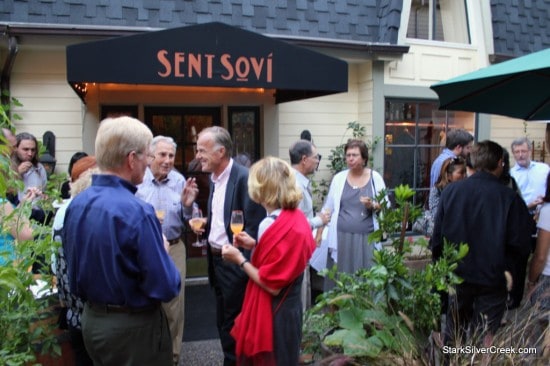 A crowd favorite were the fried oysters with green tomatoes. The fresh oysters were lightly encrusted in what seemed like a southwestern seasoned batter. Biting into one of these quickly gives way to the tender, juicy flesh of the oysters. The green tomatoes complemented well with a bit of tartness and texture.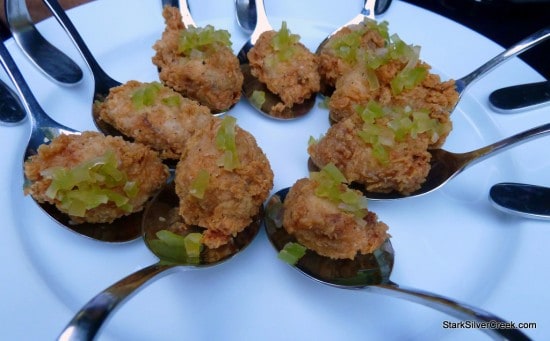 First course was Sent Sovi's Classic Gazpacho "Deluxe" with Dungeness Crab. I was surprised with the intensity and freshness of the tomato flavors in this dish. The Dungeness crab added substance and variation in texture.
For each course Chef Josiah Slone would come out and give a overview of his thoughts when he created the dish and also the wine that is paired with it. At Sent Sovi, Josiah selects both the menu and the wines. Chef Josiah commented on the "crap year for tomatoes" and the challenge it was to find tomatoes that were suitable for his famous gazpacho.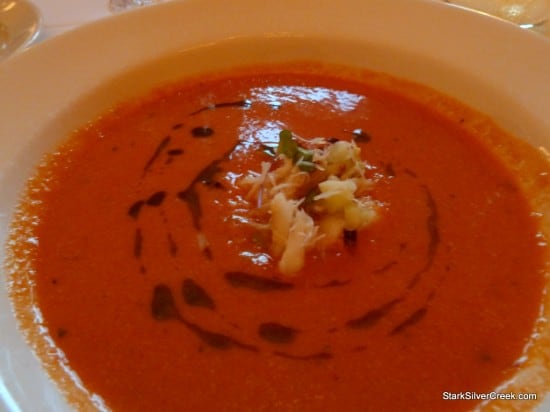 Second course was the Oven Roasted Purple Cherokee Tomato Fondue with Epoisse. This was a fun course to eat. Admittedly, I did play with my food, using my fingers to take the toasted bread and dip it into the warm cheese. The Cherokee Tomato variety is thought to have been in existence for over 100 years, cultivated originally by the Cherokee people. Its sweet, smokey characteristics made it an appropriate choice for a fondue. I wasn't sure what was on the side but it was a refreshing way to cleanse the palate after a very rich second course.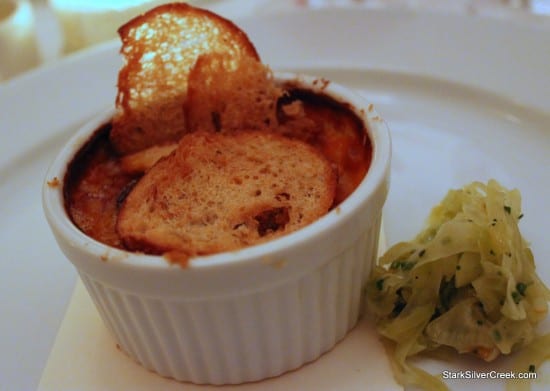 The third course was the most unusual of the evening: Green Grape Terrine with Scallop Tartare and Tomato Water Ice. It was beautifully plated and a curiosity to eat. Whereas the previous dishes had familiar comforting flavors, this dish served to amuse my taste buds. Chef Josiah noted he was playing with the buttery and Umami flavors in this dish. Of all the wines of the evening, Josiah spoke most passionately about the Pinot Noir served with this course. He considers 2008 one of the best vintages of this wine and what makes it even more precious is that the "Palazzio" has since been discontinued.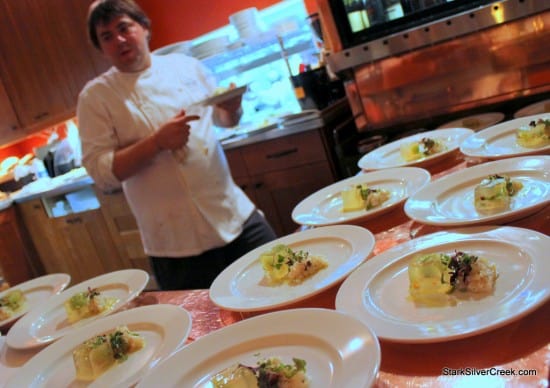 At this point in the evening, I take a moment to look around and notice the eclectic interior of this cozy restaurant. The dining area has room for only a small number of patrons. The architecture is craftsman, but the decor is more Art Nouveau. There is also the heavy use of copper most dominant as wainscoting adorning the bottom half the restaurant. I find out later that it was originally there when Josiah purchased the place from Chef David Kinch, now owner of Manresa Restaurant in Los Gatos. To keep the copper glistening, each evening, one panel is polished.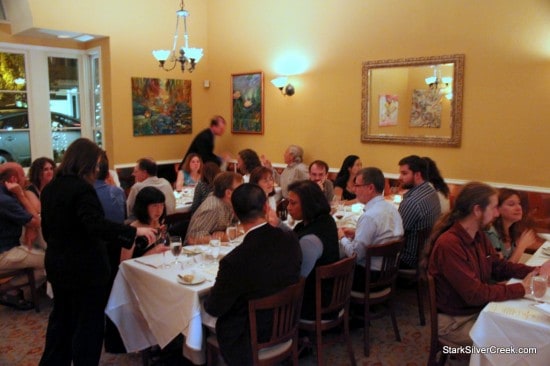 The fourth course was one of my favorites: Slow Cooked Lamb Confit with Poached Tomato "Gñatua" Sauce paired with Corison Cabernet Sauvignon, Napa Valley '00.
The lamb cut is one of Josiah's favorite, the shoulder. It was slow cooked for 15 hours until it had become wonderfully tender and flavorful. The element of this dish that made me take notice however was the slice of tomato under the piece of lamb. It was the best slice of cooked tomato I have ever tasted. I find out during the brief from Chef Josiah that the tomato had been poached in butter for 18 hours. This dish shows that a great dish cannot be rushed.
Besides this surprising fact, there was also another mystery to be solved with this dish. A patron asked what "Gñatua" sauce to which Chef Josiah let out a mischievous smile. He gave a few clues and finally someone realized that "Gñatua" spelled backwards was "au Tang". Translated from French means "with Tang". So the sauce uses as one of its ingredients Tang, yes the orange-colored drink.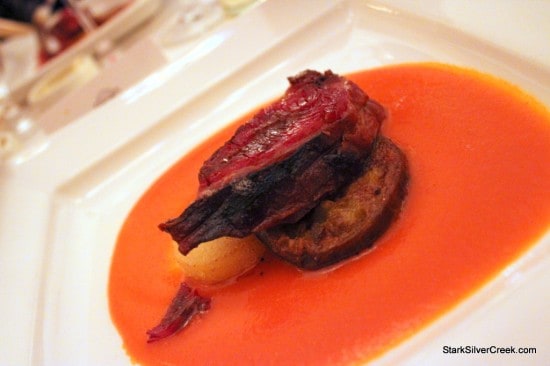 As a cap to a wonderful meal, dessert was an Exploration of Peanuts and Tomatoes. This dessert really was an exploration of possibly four desserts. Each part of the dessert had distinct tastes and sensations. It was all delicious and a delightful way to conclude a culinary exploration of heirloom tomatoes.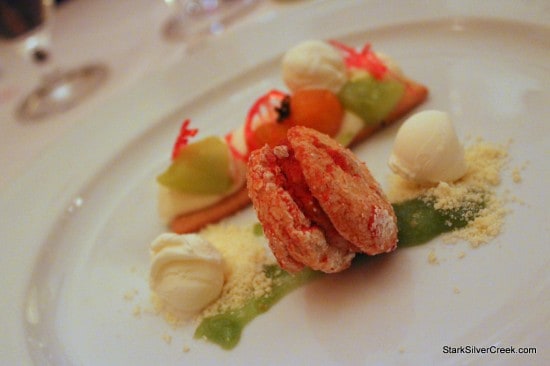 What made the evening so enjoyable was not only the great food, but also the anecdotes and stories that Chef Josiah Slone shared during each course. His sense of humor is simultaneously obtuse and warm, making it most endearing.
It will be another year before Sent Sovi has their Heirloom Tomato dinner, but Chef Josiah hosts several themed dinners throughout the year and has an upcoming "Duckman Dinner III – Return of the Duckmaker" on September 30th which features duck as the main ingredient. The dinner starts with reception at 7 pm followed by a six course dinner paired with wine for $125/person. For more information, check out Sent Sovi's website.
P.S. On the bottom of the Heirloom Tomato Dinner menu was the phrase, "Occasio aegre offertur, facile amittitur". Translated into English from Latin: Opportunity is offered with difficulty, lost with ease. (Publius Syrus).