Food, the substance of necessary sustenance, has, over centuries, evolved into a muse that evokes pleasure and desire. Nothing titillates all of our senses quite like biting into an oozing grilled cheese sandwich or a succulent hamburger. Our nostrils flare, our eyes close and our taste buds dance. Was it not Sally who expressed our relationship with food so well in her orgasm scene in 'When Harry Met Sally'?
If there is one thing that pushes the boundaries of how we communicate ideas and sensations, food–at least in my books–would be the top contender.
media [mee-dee-uh]: the means or channels of general communication, information, or entertainment in society, as newspapers, radio, or television. (source: dictionary.com)
This curiosity was why I found myself seated in the front row of "The Future of Food Media" at SF Chefs 2010 to hear what a diverse panel of participants had to say about the topic. And, also, how it differed from some of the discussions going on in other industries such as wine and theater. (See article, "Situation Critical: Theater Coverage in the New Media Landscape" by Clinton Stark)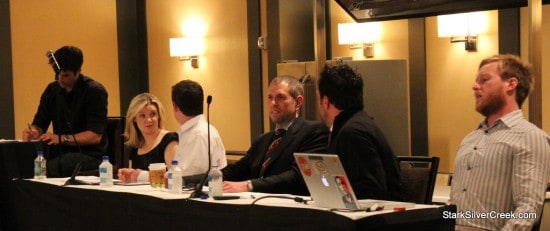 The panel was moderated by Paolo Lucchesi of San Francisco Chronicle's Inside Scoop blog, and featured Andrew Freeman (Andrew Freeman & Co.), Robbie Lewis (Bon Appetit Management Co.), Ruggy Joesten (Yelp) and Anna Weinberg (Marlowe).
Like the other sectors we cover here on StarkSilverCreek (theater, wine, travel) the discussion quickly evolved into lively banter about social media. What is it's role in creating buzz and being an arbitrator of taste for the masses…or at least the volumes needed to keep a restaurant open?
As social media pursues legitimacy, I find it fascinating that it seems to always seek validation from traditional sources.
In this case, Ruggy, Yelp San Francisco community manager, kicks off the discussion with an audio clip from Anthony Bourdain, whose claim to fame involves a book (yes, made from tree pulp) and a television series featured on Travel Channel, owned by parent company Scripps Networks Interactive (NYSE: SNI).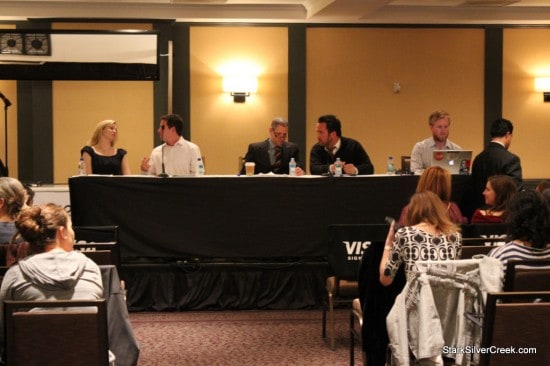 "The dinosaur is dead," booms Bourdain from the room's speakers. "Only the brain needs to receive the message."
Ruggy scans the audience while underscoring the key message with Bourdain as exhibit A. Traditional media is obsolete, Ruggy notes, and Yelp is here to stay. He paints a visual image of Yelp both as a bathroom stall wall and as a exemplary specimen of the democratic process that allows its users to rate and comment on restaurants.
Which one is it?
I think when we talk about social media, we tend to hyper-focus on the "media" component and ignore the implications of the word "social." Just like in the different circles in our lives, there are those who shame us with their niceness and then there are the jerks. Social media can amplify both extremes.
Robbie Lewis, chef with Bon Appetit Management Co., is able to quickly monitor both positive and negative feedback on the food service at the Oracle campus he manages. Through Twitter, he is able to connect and maintain his brand even without a physical restaurant in San Francisco. It is through social media that he transcends time and place and makes the astute observation that foodies in San Francisco have swung from craving find dining to seeking out the ultimate cupcake truck and grilled cheese sandwich. This last proclamation distracts me for a bit as I day dream about cupcakes (carrot, red velvet, vanilla) dressing in tantalizing gowns of icing dancing around me.
I quickly snap out of it as Andrew Freeman grabs the microphone. Waving his Blackberry, he admits he is a technology laggard. Even he realizes the opportunity social media presents: It gives his company the ability to showcase chefs and restaurants with a new level of immediacy not available through traditional media channels. He also notes the double edged nature of this new found speed. If buzz is created too soon and the restaurant is still working out kinks, bad reviews could kill it. The new bloggers of social media may not wait for the customary 30 days before reviewing a restaurant as is an understood practice in traditional media.
Unlike Ruggy, he doesn't see old media going away. His clients, he notes, still revere receiving a triumphant review in black ink on physical paper, and he still enjoys the reading the physical morning paper in bed. Social media for Andrew, is just another tool in his arsenal.
Immersed in the digital world myself for a good portion of my days, I do admittedly cherish quiet moments curled up with the latest issue of Bloomberg Businessweek or a paperback. The latest I'm reading is "Little Bee" by Chris Cleave.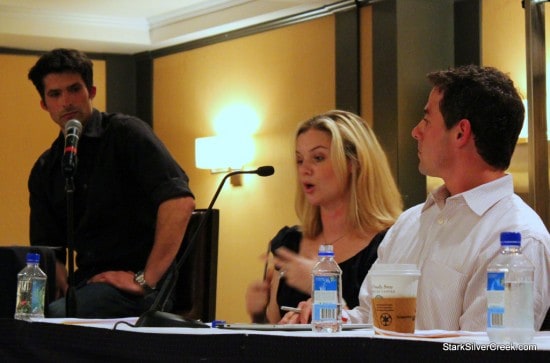 The immediacy of information is what restaurateur Anna Weinberg appreciates about social media. She uses it as a focus group to figure out what items on the menu are working, what local food trends are captivating the city and how the service at Marlowe restaurant is perceived; all without having eyes in the back of her head, or a crystal ball.
For example, the infamous Marlowe burger was no kitchen accident. It was the culmination of savvy observation into the foodie direction towards comfort food through social media outlets and much experimentation in the restaurant's kitchen.
The immediacy and low barrier to entry of social media as a medium of communication not only means a restaurant can broadcast its message quickly, but also that a restaurateur must take individual feedback cautiously. One negative tweet or review is not a data point to react on. However, if you start seeing a few comments that your bartender is rude, perhaps it's time for a change.
The speed that messages travel from creator to consumer and the transparency by which it can happen are the defining characteristics of this genre of communications we call "social media". It is the immediacy of action and reaction that enables chefs, such as Robbie, to let his followers go behind the velvet curtain and truly engage. Also, with restaurants being a very capital intensive pursuit, social media can be used to preemptively ensure you have a following even before the restaurant opens as Anna notes.
Admittedly, social media may not be for every chef or restaurateur. A few knowing glances and smiles are shared between the panelists as they diplomatically cite a few brilliant chefs who are not quite as nimble on their feet in the social media realm.
I was glad to see at the end of the 90 minute discussion, we ended up returning to a solid foundation of what makes any medium of communication effective.
Firstly, there is the notion that regardless of whether you are immersed in traditional or social media, we all do "look to experts." Restaurateurs crave that bar and that excitement of getting a stellar review from an expert. Consumers demonstrate that expertise matters with their purchasing power. There is still the "Bauer Bounce", the noticeable increase in restaurant patrons after a positive review from Michael Bauer of the San Francisco chronicle. This was a similar conclusion reached in a discussion on social media at a wine conference I attended earlier this year. The question, "Who will be the next Robert Parker in new media?"
Secondly, people do care about exceptional writing. It is not only the content of the message but how the words are strung together and do they entertain the reader.
One participant in the audience noted that "…people don't go to Yelp to read." When she writes for a news column or magazine, she is thinking of that person commuting in the morning on the bus and keeping them captivated. A similar debate became quite heated at the wine conference regarding this topic as well. The provocative question posed during a panel there was, "Are bloggers wine writers?"
In the end, I think social media is an enlightening new way for those in the food industry to engage with those that consume our creations. As consumers grow in their awareness and desire to know where their food comes from (who grows it, who transforms it) social media provides a channel that has the characteristics to support such engagement: immediacy and transparency.
As creators of the content that populates this new space, these same dispositions of this new medium also means greater responsibilities for individual participants. We must personally contemplate what we are posting as there are few external checks on what we send out digitally.
Something Cindy Pawlcyn said in another session aptly applies. Never compromise on quality, she noted, your customers can tell. Similarly, like in traditional media, never compromise quality in your social media interactions.