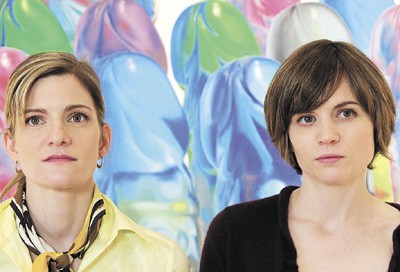 Throw in some awkward confessions, a gallery full of erotic artwork and some sushi rolls and you have the perfect basis for lunchtime humor, the quirky kind.
In Nothing Happened, a gem of a film written by Jessica Provenz and directed by Julia Kots, the boundaries of what can be shared between best friends are tested. With sushi rolls in toe, Barb (Jessica Henson) drops in on Liza (Sarah Louise Lilley) during lunch.
Dirty blond hair pulled back in a pony tail, crisp preppy clothes, Barb could be my best friend, especially if she brings me sushi rolls. Liza with cropped brown hair seemed more the one to have a belly-button piercing or high school photos of herself in Goth.
The entire short film (10 min) is shot at Liza's workplace, an erotic art gallery. Very early on, we get the sense that Barb has something on her mind she wants to confess to Liza and the sensation of suspense is created. Quick camera pans of the pieces of erotic art behind a perfectly mundane conversation between girlfriends are like inside jokes between the viewer and the camera.
This quirky and funny film brushes us against sexual taboos, and then, with a blink of an eye, returns us back to our conventional lives.