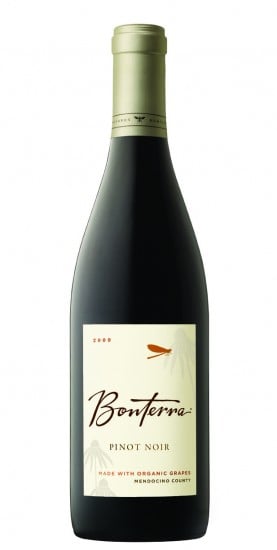 Bonterra continues to expand its portfolio, adding a Pinot Noir to its collection this fall. As a leading producer of California wine made from organically grown grapes, Bonterra states it is introducing a Pinot Noir to capitalize on the growing consumer demand for the variety and wines made from organically grown grapes.
The Bonterra Pinot Noir features aromas of strawberry, raspberry and cola accented with hints of oak spice and vanilla. With flavors of berries, vanilla and spice, this wine has soft tannins and a lovely long finish.
In a statement Bonterra said, "[We are] committed to meet consumer demands for organic offerings, so this Pinot Noir is a great addition to the Bonterra portfolio."
The Bonterra Pinot Noir is currently hitting shelves nationwide and will retail for $19.99.
Earlier this year Bonterra introduced a Riesling. At the same time the brand unveiled its new package, which consists of a hand-scripted word mark with a cover crop design and wildlife iconography unique to each varietal. The new design apparently helps strengthen Bonterra's organic philosophy and unique winemaking practices.
The Bonterra portfolio has many varietals including Chardonnay, Merlot, Cabernet Sauvignon, Sauvignon Blanc, Riesling, Rosé, Syrah, Zinfandel and Viognier, in addition to the new Pinot Noir. Bonterra Wines are produced in Mendocino County, California, and marketed and produced by Brown-Forman Corporation.