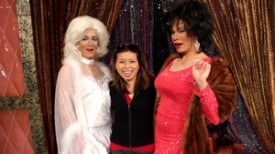 It's a man, baby! Or is it? Go inside the world of La Cage as Loni tours backstage at the famous, flamboyant show. From man to woman, Les Cagelles Michale Escamilla and Justin Taylor Nixon shows you what it takes to become a hot, confident woman. And the walk? It's all in the swish.
Makeup, wigs, jewelry, dresses, accessories, high heels. It's all here, as the actors take over an hour each night to prepare for the grand show.
Directed by Marc Jacobs, we travel to St. Tropez, France where family values and outrageous comedy collide in Jerry Herman's legendary musical La Cage aux Folles. Winner of 6 Tony Awards, including Best Musical, this unforgettable and funny tale of unconditional love, and above all, the need to celebrate who we are, features the anthem "I Am What I Am" and the beloved"Song on the Sand."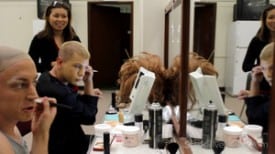 Only 8 performances remain, and best of all you don't need to travel to New York to enjoy a few hours at Georges' (Curt Denham) night club. Thanks to Broadway by the Bay, you can see the show at the San Mateo Performing Arts Center.
"Though every bit a musical comedy, the show explores the importance of family values, the power of love in all its forms, and the sanctity of individuality and independence," notes Executive Director Jim Gardia. "It is this wonderful mix of larger-than-life hilarity and heartfelt storytelling that make La Cage aux Folles a true masterwork of the American musical theatre."