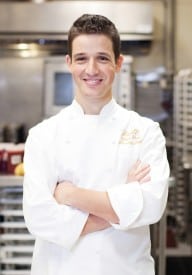 Yigit Pura, Executive Pastry Chef at Taste Catering and Event Planning in San Francisco, will be featured as a contestant on the premiere season of Bravo's "Top Chef Just Desserts" – a spin-off of the popular Emmy-nominated and James Beard Award-winning "Top Chef." Renowned pastry chef, Johnny Iuzzini, will serve as head judge with acclaimed San Francisco chef Hubert Keller (Fleur de Lys, Burger Bar) and Daily Candy editor-at-large Dannielle Kyrillos rounding out the judges' table. Top Chef judge, Gail Simmons, will serve as the host.
"Top Chef Just Desserts" will begin airing on Bravo on September 15, 2010 at 11 p.m. ET/PT, and moving into its regular timeslot of 10 p.m. on Wednesday, September 22. For more information on "Top Chef Just Desserts," visit www.BravoTV.com.
"Taste Catering is so proud of Yigit and his participation in Bravo's newest Top Chef competition. Not only is he an amazing and creative pastry chef, he's also a terrific asset to the Taste team," said CEO, MeMe Pederson.
Yigit began his culinary training at the age of four in Ankara, Turkey while helping his mom make dark caramel. His formal culinary training began at the age of 20 in San Francisco, while working in some of the top kitchens. He then moved to New York City, where he landed a position at Le Cirque 2000 and moved shortly after to The Four Seasons Hotel. Yigit then landed what he would call his "golden step," as the Pastry Sous Chef at Daniel, under Chef Daniel Boulud. After two and a half years, he was promoted to Executive Pastry for Daniel Boulud in Las Vegas. He has since returned to San Francisco working for Taste Catering and Event Planning.
Women-owned and operated Taste Catering has provided the very best in catering and event planning services for private and corporate clients in the San Francisco Bay Area for over30 years. Taste Catering uses only the freshest and highest quality ingredients and supports local growers and producers that engage in organic and sustainable agricultural practices. Taste Catering is proud to be "Green Certified" by the San Francisco Department of the Environment.
For more information on Taste Catering and Event Planning, visit Taste Catering.