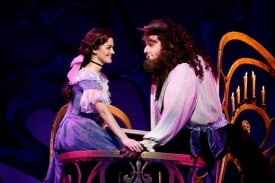 Once again, the calendar is brimming with possibility. Whether you like theater, wine, or just lazing in the park, there is much to do across the Bay Area. Let me simplify the matter. Swedish Statesman and United Nations official Dag Hammarskjold once said, "The more we do, the more we can do; the more busy we are, the more leisure we have." So there you have it. Let's get to it!
Opening tonight is Walt Disney's Beauty and the Beast at the Golden Gate Theatre in San Francisco. Meanwhile tomorrow night at the California Theatre is perhaps one of the most oddly named musicals of all-time: Menopause the Musical.
Those looking for a weekend wine getaway would do well to check out the three-day Grape to Glass event taking place in the Russian River Valley in Sonoma.
Or, if you prefer enjoying the summer skies on the comfort of an expansive Saratoga lawn while listening to your favorite classical compositions, then you should head to Montalvo for the Strauss to Sondheim concert with Symphony Silicon Valley.
Plus: The Circus is in town!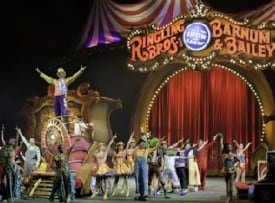 Ringling Bros. and Barnum & Bailey: FUNundrum!
HP Pavilion, San Jose
August 18-22
Featuring 130 performers from six continents around the world, including almost 100,000 pounds of performing pachyderms, fifteen trampoline bouncers, ten flipping gymnasts on a teeterboard, six somersaulting trapeze artists, seven motorcycle riders in the Globe of Steel, and more clowns than can be seen with two eyes, Barnum's FUNundrum! is a super-sized spectacle so massive it took 200 years to arrive! More information.
Disney's Beauty and the Beast
Golden Gate Theatre, San Francisco
August 17-29
The smash hit Broadway musical, is coming to San Francisco! Based on the Academy Award-winning animated feature film, this eye-popping spectacle has won the hearts of over 35 million people worldwide.
This classic musical love story is filled with unforgettable characters, lavish sets and costumes, and dazzling production numbers including "Be Our Guest" and the beloved title song. More information.

Menopause the Musical
California Theatre, San Jose
Opens August 19
Set in a department store, where four women with seemingly nothing in common but a black lace bra meet by chance at a lingerie sale. The all-female cast makes fun of their woeful hot flashes, forgetfulness, mood swings, wrinkles, night sweats and chocolate binges. A sisterhood is created between these diverse women as they realize that menopause is no longer The Silent Passage! It is a stage in every woman's life that is perfectly normal! "Most women know intuitively that every other woman is experiencing hot flashes or night sweats," says Linders. "There is always a close friend or two who can sympathize or identify with her, but when they are sitting in a theatre with hundreds of other women, all laughing and shouting' 'That's me! That's me on stage!' they know what they are experiencing is normal. They aren't alone…or crazy. It becomes a sisterhood." More information.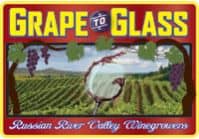 Grape to Glass
Sonoma County
Friday August 20-22
"Where Creative Juices Flow!" Join the Russian River Valley Winegrowers for a weekend of artistic passions as they celebrate the kick-off the 15th Annual Grape to Glass weekend! Scheduled events include a Tastelive! photo contest, kayaking the Russian River, seminars including the art of winemaking, a hog in the fog festival, and a "sparkling pink finish" on Sunday. More information.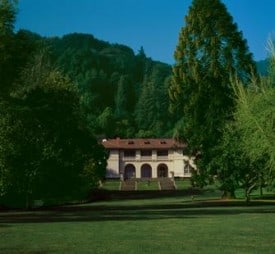 Strauss to Sondheim: A Summer Evening Lawn Concert with Symphony Silicon Valley
Montalvo Arts Center, Saratoga
Sunday, August 22
Spend a delightful summer's eve under a canopy of stars as Symphony Silicon Valley, Maestro George Cleve, and Broadway star Lisa Vroman perform on the great lawn at Montalvo Arts Center.
The waltzes of Strauss, Sondheim, and friends set the backdrop reflecting Cleve's Viennese heritage. The beloved strains of "Die Fledermaus" and "The Blue Danube" will mingle with Sondheim and Gershwin favorites to reflect the air of a delightful summer outing. Picnic and dine on the lawn as Lisa Vroman leads us through a medley of Broadway tunes written with a Viennese dance tempo in mind. This special Strauss to Sondheim concert celebrates the renewal of Montalvo's annual summer lawn concerts. Bring the family and enjoy one of the South Bay's most beautiful places! More information.
(thanks–yet again–to Clint for input on this post)