Why not treat yourself to a show this weekend? The nights are beautiful (not that there's anything wrong with the days mind you), and your favorite local stage, venue and gallery is sure to have something that will please event the most jaded patron. And that reminds me, today's quote comes from actor Noah Wyle on that very topic (coincidence?), "Boy, oh, boy, people get jaded fast. I got nominated for an Emmy."
If you're near downtown San Jose definitely take a drive down by the Adobe buildings on West San Fernando Street. Underneath the Highway 87 overpass, next to the Guadalupe River, you'll find a "Floating World." This living, breathing installation not only challenges our perception of space, but also ignites though-provoking discussion about the environment.
Shows that are on our radar include the gloriously fabulous women of Dreamgirls now playing San Francisco. Tonight in Berkeley, Aurora Theatre kicks of their season with Trouble in Mind. Likewise, TheatreWorks opens as well with The Light in the Piazza on Saturday evening.
If you love … love stories, then take the kids out for a fantastical Disney outing with Beauty and the Beast, still playing at the Golden Gate Theatre in San Francisco. Also, playing up in the City after a run in San Jose is Menopause The Musical–yes, you read that right folks.
Support Bay Area playwrights by checking out A Box of One Acts, playing Friday and Sunday at WORKS/San Jose (tickets are pay what you can).
The Institute of Contemporary Art (ICA), always a lightning rod of artistic expression, has at least 4 exhibitions that may be of interest after an evening stroll through the SoFA district of downtown San Jose: Bernie Lubell: Conservation of Intimacy, Exposed: Today's Photography/Yesterday's Technology, Captured: Photography's Early Adopters, Liz Steketee: Reconstructed Memories.
Up the street at the San Jose Museum of Art, four works are on view: Leo Villareal, Degrees of Separation: Contemporary Photography from the Permanent Collection, Retro-Tech, Vital Signs: New Media from the Permanent Collection, and New Stories from the Edge of Asia: Plastic Life.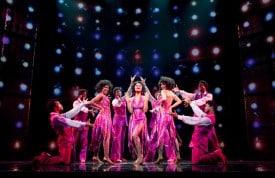 Dreamgirls
Curran Theatre, San Francisco
Through September 26
Direct from Harlem's world famous Apollo Theater in New York City, comes the sensational new stage production Dreamgirls. Full of onstage joy and backstage drama, Dreamgirls tells the story of an up-and-coming, 1960s singing girl group, and the triumphs and tribulations that come with fame and fortune. More information: SHN SF.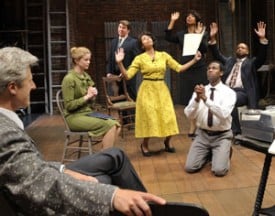 Trouble in Mind
Aurora Theatre Company, Berkeley
August 20 – September 26
Trouble in Mind follows a mixed-race cast attempting to mount a production of a "progressive" new play on Broadway in the 1950s. The play—an anti-lynching drama set in the South—is written by a white man and directed by a white man, and marks the first opportunity for a gifted black actress to play a leading role on Broadway. But what compromises must she make to succeed? More than 40 years after it was written, Trouble in Mind, according to The New York Times, "still has the power to make one feel its anger and humor." Bay Area favorite Margo Hall will make her Aurora debut with this play. More information: Aurora Theatre.

The Light in the Piazza
TheatreWorks, Mountain View
August 25 – September 19
Winner of 6 Tony Awards! Beneath the Tuscan sun in 1953, this illuminating Broadway hit celebrates the many facets of love with a vibrant heart. A protective American mother is vacationing with her radiant but fragile daughter, who falls head over heels for a passionate young Florentine. To the soaring melodies of what The New York Times called "the most intensely romantic score since West Side Story," all three embark on a life-changing journey beyond danger into light. More information: TheatreWorks.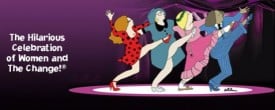 Menopause The Musical
Herbst Theatre, San Francisco (to Aug 27)
Sacramento Community Center Theater, Sacramento (Aug 28, 29)
Set in a department store, where four women with seemingly nothing in common but a black lace bra meet by chance at a lingerie sale. The all-female cast makes fun of their woeful hot flashes, forgetfulness, mood swings, wrinkles, night sweats and chocolate binges. A sisterhood is created between these diverse women as they realize that menopause is no longer The Silent Passage! It is a stage in every woman's life that is perfectly normal! "Most women know intuitively that every other woman is experiencing hot flashes or night sweats," says Linders. "There is always a close friend or two who can sympathize or identify with her, but when they are sitting in a theatre with hundreds of other women, all laughing and shouting' 'That's me! That's me on stage!' they know what they are experiencing is normal. They aren't alone…or crazy. It becomes a sisterhood." More information: Menopause The Musical.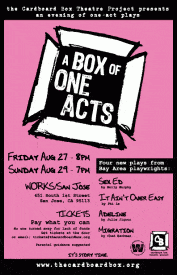 A Box of One Acts
The Cardboard Box Theatre Project, WORKS/San Jose
Aug 27, 29
Remember when you were little, and your parents got something in a big cardboard box, and you got to play with that box? It could be anything. It could be a fort, or a rocket ship, or even a tepee.
Remember when all you needed was your imagination?
We remember. Welcome to the Cardboard Box Theatre Project, a brand new theatre company committed to bringing new works to the Bay Area. More information: The Cardboard Box Theatre Project.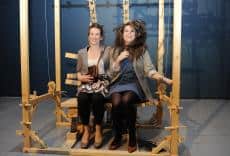 Institute of Contemporary Art (ICA)
Downtown San Jose
Bernie Lubell: Conservation of Intimacy – An interactive installation presented in partnership with the 01SJ Art Biennial.
Exposed: Today's Photography/Yesterday's Technology – Inspired by the rich history and alchemic experimentation of obsolete photographic practices, the artists in this exhibition create images using antiquated photographic methods that can't be learned in any photography school, creating works that range from daguerreotypes to tintypes, gum prints to cyanotypes.
Captured: Photography's Early Adopters – An exhibition of vintage prints from the collection of Stephen and Connie Wirtz. Guest curated by David Pace.
Liz Steketee: Reconstructed Memories – A unique print series that uses the artist's personal family photographs to rewrite history from her vantage point.
San Jose Museum of Art
Now on view: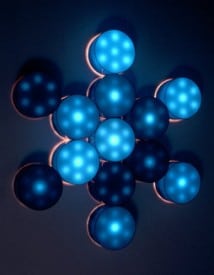 Leo Villareal – August 21, 2010 through January 9, 2011
Leo Villareal (born 1967 in Albuquerque, New Mexico) is a pioneer in the use of LEDs and computer-driven imagery and known both for his light sculptures and architectural, site-specific works. This exhibition, his first major traveling museum survey, seeks to place Villareal's body of work within the continuum of contemporary art.
Degrees of Separation: Contemporary Photography from the Permanent Collection – July 22, 2010 through March 14, 2011
Degrees of Separation illustrates a touchstone among photographers—the fragile nature of our connection to other human beings and to the world around us. Featuring several key new acquisitions, the story unfolds through images ranging from portraits to landscapes, grainy vintage snapshots to large-scale digtital photographs.
Retro-Tech – July 22, 2010 through February 6, 2011
The artists represented in this exhibition grapple with the potential of technology as they "build their own world." They re-purpose and manipulate technologies of the past and present in ways that range from playful to ironic to analytical.
Vital Signs: New Media from the Permanent Collection – June 12, 2010 through February 6, 2011
The patterns of nature find reflection in the functions of human life—the motion of ocean waves echoes the measured inhalation and exhalation of breath; flower petals reach for the sun, unfurling and then collapsing, more slowly but similarly to the way a heart contracts and expands. The new media artists in this exhibition use technology to replicate these vital signs, but also to explore the inner source of life, those elements unseen but often sensed.
New Stories from the Edge of Asia: Plastic Life – March 13, 2010 through September 19, 2010
This exhibition is the first in new series that features recent work by artist from Pacific Rim countries and cultures who explore new narrative territory using animation, digital techniques, video, and film. Plastic Life looks a the ways artists weave the past and the present; the local and the universal; the ancient and the futuristic.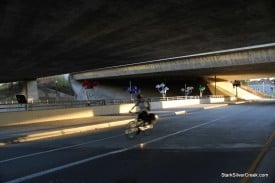 "Floating World"
01SJ Biennial – Public Art Installation
Highway 87 overpass @ Guadalupe River
by Robin Lasser and Marguerite Perret
Partners: Bruce Scherting, James Stone, Keay Edwards, Anthony Teixeira, + Sasha Rieker
Twenty-four miniature disaster relief tents will be cantilevered off the railing gracing a bridge that crosses over the Guadalupe River at San Fernando Street in downtown San Jose. The tents are built on stilts; the architecture is designed to protect occupants from the possibility of floods. The tent designs are fashioned after FEMA relief shelters, and are scaled for birds. Each tent interior contains a speaker or microphone and lantern. The tents are a conflation of human and bird design elements. They provide sanctuary or shelter for bird and human song, water compositions, and interviews with scientists who speak about the Guadalupe Watershed, birds, flooding, and the relationship of floods to climate change. The temporary public art project will be installed June-October, 2010.
The project is commissioned by the City of San Jose Public Art Program in collaboration with ZER01 and the 01SJ Biennial.
Send news, press announcements and story ideas to press@starkinsider.com. Don't forget to follow us @StarkInsider and like us on Facebook for the latest in SF Bay Area Theater, Arts, Food, Wine, Tech… and maybe even a blooper or two.
Stark Insider – "Twice as fun / Half as smart."