Guest post by Pat Reardon.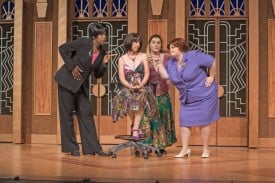 OK, so this show isn't for everyone. But, if you are a woman of a certain age and you love classic rock and roll and disco tunes of the 60's and 70's you won't find a funnier, more satisfying way to spend an evening than with the four rollicking ladies of Menopause The Musical.
This zany production begins as four total strangers meet at a lingerie sale at Bloomingdales. These women have only one thing in common: menopause. The next 90 minutes fly by as they confide, cajole, complain and console each other over the vast inconveniences of the change of life.
Each of the women has their own story to tell. The Professional Woman (Cynthia Jones) laments about keeping up with her younger colleagues at work. The aging Soap Star (Lisa Fox), no longer an ingénue, worries about her career. The Iowa Housewife (Liz Hyde) and the Earth Mother (Megan Cavanagh) both with grown families,  question their purpose in life.
This fun foursome spends their day wandering through Bloomingales from floor to floor and department to department singing their parodied classics that skewer menopause and its symptoms. Nothing is left out of the parade; hot flashes, sleeplessness, weight gain, libido, memory loss, food binges, it's all there. The modified lyrics of the two dozen songs are a hoot. Irving Berlin's "Heat Wave" becomes "I'm Having a Hot Flash!" "Puff the Magic Dragon" is "Puff, my God, I'm Draggin'." "Wishin' and Hopin'" morphs to "Drippn' and Droppin." It's all great fun.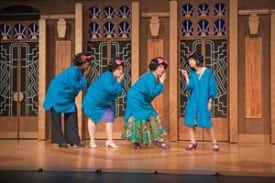 The cast is sensational. Liz Hyde's bit on squeezing her more than ample body into a teensy weenie see-through black teddy had the audience in stitches. And, Cynthia Jones' transformation from buttoned up career exec to high strutting Tina Turner brought the house down. The more than enthusiastic audience lapped up the entire performance.
So if this show isn't your cup of hormone replacement therapy, do yourself a favor. Call your mother. Tell her to grab three or four of her favorite friends and go see Menopause The Musical. She'll love you for the recommendation and tell everyone that you are a genius.
Menopause The Musical runs until August 22 at the California Theater in San Jose and August 24-27 at the Herbst Theater in San Francisco.
Menopause The Musical
4 out of 5 stars
Directed by Kathryn Conte
Written by Jeanie Linders
Starring Cynthia Jones, Lisa Fox, Megan Cavanagh and Liz Hyde
On the web: www.menopausethemusical.com
Run time: 90 minutes, no intermission