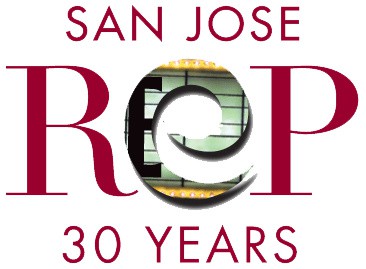 San Jose Repertory Theatre kicks off its 30th Anniversary Season with the West Coast Premiere of Black Pearl Sings!, penned by Frank Higgins and directed by the Rep's Artistic Director Rick Lombardo. Black Pearl Sings! is the compelling musical drama that tells the story of two extraordinary women—a jailed African-American songstress and a Caucasian academic—whose fates become intertwined. Performances begin September 2nd and continue until September 26th.
"I'm so pleased to be directing this powerful, poetic and evocative new play by Frank Higgins to open this 30th Anniversary Season," states Lombardo. "When I first read this play over a year ago, I was struck by how this story of two strong-willed and truly unique women, from remarkably different backgrounds, demonstrates the power of music as a common language, and songs as a way to record our history. The songs sung in the show are, in turn, powerful, fun, bawdy and sweet, and take us on both an emotional and musical journey. This is an important new play, and I'm pleased we are able to introduce it to the Bay Area."
Can music transform pain into beauty and unite two strangers? Susannah (Jessica Wortham), an educated, career-obsessed white woman who works as an ethnomusicologist for the Library of Congress, is about to find out in her quest to find authentic, pre-slavery, African-American music. When she encounters Texas prisoner Pearl Johnson (Jannie Jones), an unlikely partnership develops between the street-smart Pearl and the ambitious Susannah. Susannah bargains for Pearl's parole and arranges for several public performances. It isn't long before Pearl is belting out radiant, soul-baring songs with the strength and beauty of the unaccompanied human voice. Fed by Pearl's African and enslaved foremothers, the songs remind us of the power of music to help heal in the struggle between our collective past and the desire for individual histories.
Frank Higgins, the playwright, is also the author of The Sweet By 'n' By, which was produced with Blythe Danner and Gwyneth Paltrow. His plays have been seen in New York and at the Williamstown Theater Festival, Jack O'Brien's Old Globe Theater, Ford's Theater in Washington, D.C., Kansas City Repertory Theater, The Barter Theater, Florida Studio Theater, Merrimack Repertory Theater, the Penumbra Theater, and the Fulton Opera House, among others. Among his other plays are WMKS: Where Music Kills Sorrow, Gunplay, and Miracles. He has also written several plays for young audiences, including The Slave Dancer's Choice, Anansi the Spider and The Middle Passage, and The Country of the Blind.
Rick Lombardo is in his third season as Artistic Director of San Jose Rep. He was previously the Artistic Director for 13 years at the award-winning New Repertory Theatre, the leading mid-size resident theatre in the greater Boston area. In 2009, he was awarded the Norton Prize for Sustained Excellence from the Boston Theatre Critics Association for his work at New Rep. He has also been the recipient of four individual Elliot Norton Awards and is a nine-time winner of the "IRNE" award for his productions of The Clean House, Sweeney Todd, Rosencrantz and Guildenstern are Dead, A Streetcar Named Desire, Ragtime, Waiting for Godot, and The Weir.
The strong female cast members of Black Pearl Sings! will be making their San Jose Repertory Theatre debuts.
Jannie Jones (Pearl) recently received critical acclaim in the National Broadway tour of All Shook Up as Sylvia. Her Broadway and off-Broadway credits include The Full Monty, Mama I Want to Sing, and Faith's Journey. Additional credits include Hair and August Wilson's Women. She received critical acclaim for her one-woman shows My Castle's Rockin': The Alberta Hunter Story and Ethel Waters: His Eye Is On The Sparrow, which premiered at Florida Studio Theatre. Jones has toured nationally and internationally to more than 23 countries.
Jessica Wortham (Susannah) has performed in David Mamet's Boston Marriage at Capital Repertory Theatre; Green Girl at the Public Theater; The Ruby Sunrise, Merry Wives of Windsor, and A Christmas Carol at Trinity Repertory Company; Crime and Punishment, Twelfth Night, Dracula, and the Humana Festival premieres of The Ruby Sunrise, No. 11 (Blue and White) and Back Story, all for Actors Theatre of Louisville. Internationally she has appeared in Cat on a Hot Tin Roof at the English Theatre Frankfurt and Crimes of the Heart at Vienna's English Theatre.
A team of talented and creative designers collaborated on this production of Black Pearl Sings!. John Iacovelli (Scenic Designer) has designed many sets for Broadway, such as: Peter Pan, starring Cathy Rigby, and The Twilight of the Golds. He received a Los Angeles Drama Critics Circle Award for Lifetime Achievement and a Bay Area Drama Critics Award for A Streetcar Named Desire at ACT. Frances Nelson McSherry (Costume Designer) designed more than 20 productions with Lombardo at the New Repertory Theatre, including Eurydice, A Streetcar Named Desire, The Wild Party, The Pillowman, Frozen, Romeo and Juliet, Sweeney Todd, The Threepenny Opera, and Waiting for Godot. Dan Meeker (Lighting Designer) returns to San Jose Rep, having previously designed lighting for As You Like It. His lighting credits in New York include, Rock Doves at the Irish Arts Center, which garnered a Hayes Award nomination. Kate McCormick's (Vocal Coach) most recent credits include the National Tour of Strega Nona (Strega Nona), Dirty Rotten Scoundrels (Muriel) with Broadway by the Bay, and Pete and Keely (Keely) with the Palo Alto Players.