Start with the 1882 Chinese Exclusion Act that consigned immigrant families, often for years, to Angel Island in the middle of San Francisco Bay. Jump ahead 120-or-so years to a troupe of young Asian-Americans performing sketch comedy that consigns audiences to rolling in the aisles. The journey comes full circle at the 2010 San Francisco Fringe Festival, September 8-19.
Set in 1915, Paper Angels tackles immigration politics with its dramatic focus on a group of Chinese detained on Angel Island. Written by San Francisco playwright, poet, and activist Genny Lim, the production commemorates the 100th anniversary of the opening of the immigration station on Angel Island. Paper Angels is directed by Taiwanese-American actress and director Victoria Linchong and featues an ensemble of 12 multi-ethnic actors including Obie Award winner Jojo Gonzalez.
Paper Angels will be presented free of charge in Portsmouth Square (Kearney & Clay Streets, SF), Wednesday, Thursday, and Friday, September 15-17. All shows begin at dusk, calculated to be around 7:30 pm.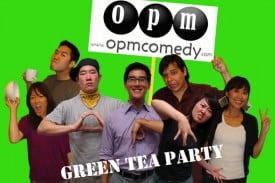 Detainees finally got off the island, and through a century of twists and turns, some of that DNA turned up in Los Angeles and formed the sketch comedy troupe OPM (Opening People's Minds.) By the luck of the draw (the way Fringe shows are chosen), OPM has appeared numerous times at the SF Fringe Festival. Like Paper Angels, OPM's show this year also takes on politics. It's called OPM's Green Tea Party and features all-new material.
In OPM's words, "If you're tired of sketch comedy "as usual"…if you're weary of Big Network misspending your prime-time hours…if you like Asian people…then check out OPM's Green Tea Party." The show features Barack & Michelle Obama, Steve Jobs, Kim Jong-Il, Sarah Plain, Mahmoud Ahmadinejad, the President of Toyota Motors, and more.
OPM's Green Tea Party stars Julia Cho, Ewen Chung, Leo Flowers, Peter Jae, Lanny Joon, Elaine Kao, Charles Kim, John Lopez, Randall Park, Lee Sherman, and Jae Suh.
OPM plays at EXIT Theatre, 156 Eddy Street for six performances, Sept. 10-12 and 17-19.
The San Francisco Fringe Festival, true to its nature, presents a wealth of extremes – this time, one of them is the Asian experience in America, from Paper Angels to OPM. Maybe next year, the Fringe will dramatize the midpoint – the story of Warner Oland, a Swedish-American, playing Chinese-American detective Charlie Chan.
The SF Fringe Festival
The 12-day San Francisco Fringe Festival is an open, non-juried, uncensored international theatre festival that draws theatre companies and individual performers from the Bay Area, around the U.S., and across the world. This year's festival season runs September 8 through 19 and features over 250 performances of some 43 different theatre pieces. Tickets range from $7.00 to $10.00 (two shows are free), with a ten-show Frequent Fringer pass at $75 and a five-show pass at $40. The EXIT venues are all within walking distance of Union Square and the Powell Street BART station.
Some Fringe Background
The original Fringe Festival began in Edinburgh, Scotland, more than sixty years ago, and has since become an international phenomenon. Fringe Festivals currently bring cutting-edge theatre to more than twenty cities across the U.S. and Canada, as well as in Europe and Asia. San Francisco's is the second oldest in the U.S. Traditionally, international performers appear at the San Francisco festival, many of them having appeared at other Fringes, such as Toronto, Edinburgh, and Prague.
EXIT Theatre celebrates its 27th anniversary this year. It produces the San Francisco Fringe Festival, the second oldest Fringe Festival in the United States and is a member of the Canadian Association of Fringe Festivals (CAFF). 2010 will mark the 19th annual San Francisco Fringe Festival.