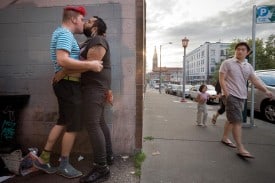 Opening on September 9, 2010 at SF Camerawork is Suggestions of a Life Being Lived, a bold presentation of contemporary work that explores queer activism, intentional and imagined communities, self-determinism, and DIY alternative world-making. The exhibition features 16 artists working in photography, film, video, activism, and education. Organized for SF Camerawork by independent guest curators Danny Orendorff and Adrienne Skye Roberts, Suggestions of a Life Being Lived looks at queerness as a set of political alliances and possibilities that exist beyond the sphere of dominant gay and lesbian culture.
Unconcerned with categorical sexual identities or coming-out narratives, Suggestions of a Life Being Lived originates from a place of 'outness' and considers how a sense of liberated queerness is pursued and mediated within public spaces and behaviors. The exhibition follows three broad thematic investigations:
The public sphere as a site for protest, education and affection
Self-organized communities, both intentional and imagined
Utopian, alternative worlds and the performance of self-determination
In Reclamations, Steven Miller uses images that employ both humor and fantasy to showcase queer or non-normative desires in public- or work-spaces. Unleashed Power, a video installation by Killer Banshee Studios' draws on archival footage from an ACT-UP demonstration to trace the story of one activist's ongoing struggle for justice following an act of police brutality therein.
Ephemera and photographs representing the theatrical protests of the direct-action group Gay Shame highlight the connection between the queer struggle and the assimilation and corporatization of contemporary gay identity. The Society of Biological Insurgents, initiated by artist Tara Mateik and represented through zines, drawings, photo and video, playfully interrogates gendered spaces—specifically public bathrooms—to generate recognition of transsexual and intersex subjects.
Work by Kirstyn Russell, Lenn Keller, Jeannie Simms, and Mercury Vapor Studios focus on various self-organized communities, both intentional and imagined, within urban, rural and transient spaces.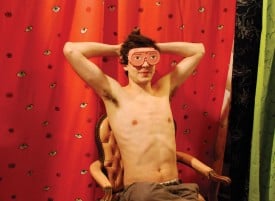 Kirstyn Russell's series Where We Are Not Known documents real and projected queer sites across America, including gay bars discreetly located or no longer open for business, as well as mundane suburban scenery made queer through Russell's lens. Lenn Keller's series Gender Warriors features portraits of young women of color from Oakland, California, who present alternative masculinities. The subjects of Keller's photographs are in the process of forming their own sense of community, one that is independent from the mainstream gay culture in the Bay Area.
Jeannie Simms' series entitled Readymaids reveals the intimate relationships and shared desires formed among women enrolled in an Indonesian maid-training agency—a stark contrast to the oppressive realities of global exchange and domestic labor. In a quite different locale—rural Nevada—The Return, a series of photographs by Mercury Vapor Studios, documents the lives of several members of a nomadic tribe of transsexual and queer people living off the land. Pursuits of utopian, alternative worlds and the performance of self-determination within them are evident in a third group of work.
Allyson Mitchell self-effacingly addresses issues of body-image, fat activism, and consumption in film and video presented inside a handcrafted habitat of abandoned afghans, patchwork quilts and throw-pillows. Complementing Mitchell's work is Falling in Love With Chris and Greg, a series of short, sitcom-like satires produced and performed by Chris Vargas and Greg Youmans. Based on their real-life relationship, in episodic form Chris and Greg tackle 'epic topics' facing the odd-couple: gay marriage, open relationships, body-issues, and their liberal/radical, transgender/biological divides.
Smile, a participatory installation and performance by Aay Preston-Myint, invites visitors to imagine themselves within a post-apocalyptic family portrait studio where gender and sexuality have become fluid. Vibrant, neon handmade costumes and scenery, each toying with classic queer iconography, are utilized for the purposes of role-playing, fantasy and collaboration.
Darrin Martin and Torsten Zenas Burns' film The Abominable Freedom, and Eric Stanley and Chris Vargas' film Criminal Queers, are featured in the screening room. The Abominable Freedom, on view from September 9 to October 2, presents an omni-sexual, self-help, love-commune set in a parallel world in a send-up of 1970s hippy culture ethos. Criminal Queers, on view from October 5—22, follows the story of a group of radical queer activists as they plan a prison break for a recently incarcerated comrade.
Funding for this exhibition was provided by: The San Francisco Arts Commission, The Andy Warhol Foundation for the Visual Arts.