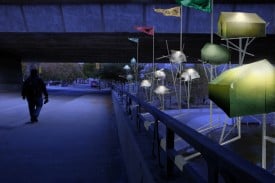 Over 100 art installations, 46 commissioned works, 9 exhibitions, a dozen workshops, 25 micro-grants, 12 public artworks, 1 drive-in movie theater, a nighttime street fair, a green prix of eco-locomotion, an epicurean multi-media dinner by chef Kitty Greenwald and artist Grahame Weinbren, a requiem for fossil fuels, a digital collector's panel, Audio Ballerina with San Jose Ballet, musical performances, operas, and more comprise the 01SJ Biennial, which opens to the public on September 16–19.
01SJ Biennial artists, scientists, engineers, architects, designers, activists, film-makers, and musicians from 21 countries will converge at the epicenter of the high technology revolution as the 01SJ Biennial producers throw the switch and ask these creators to "build your own world", thus saturating the Silicon Valley city of San Jose with four days of non-stop contemporary art at the nexus of technology and digital culture.
Artists and Scientists Working Side by Side
When art, technology and digital culture converge, it's open season for artists and scientists to collaborate and/or compete in imagining and even prototyping the future in order to change the way world works, plays and lives.
Traits and Habits Shared by Artists and Scientists:
Both scientists and artists pursue a creative and exploratory "brainstorming" stage
This is then followed by testing and refining stages that typically involve the application of set procedures with additional creative problem solving as needed
Artist studios and science labs usually have a large number of projects going at once, often in various stages of incompletion
Both require specialized tools
The final results are open to interpretation.
Are often required to live in an open-ended state of interpretation and reinterpretation
The Artist/Scientist Hybrid (aka as dreamers who want to change the world)
As a builder, inventor, seeker, dreamer, thinker, the artist-scientist is often depicted as distracted by his or her own thoughts, but with digital culture in ascendance the line between distraction and inspiration is more permeable than ever.
In terms of Jungian archetypes, the artist-scientist is uniquely capable of both creating and discovering. While seen as both a dreamer and inventor, they are not necessarily perceived as "wise," but rather as sources of change. Their resistance to being confined by a reality that does not fit with their plans is a defining trait.
With digital culture in ascendance, and increased technologic fluency at their fingertips, the O1SJ Biennial aims to show that preventing these dreamers from changing the world just might be futile.
The O1SJ facilitates these characteristics through works by artists / designers / architects / filmmakers and engineers, including:
Natalie Jeremijenko – Artist, engineer, former Yale engineering professor and current NYU Associate Professor of visual arts with a renegade streak re-imagines luxury air travel as a means of wetland restoration (Her work has appeared at Mass MoCA, the Whitney and other prestigious institutions)
David Rockwell/Rockwell Group – Architect & design maestro known for producing compelling immersive environments (including the 2009 Oscar telecast) tackles the concept of civic engagement via the "shared moment," when he and his group network San Jose Civic Center, plug it in and flip on the switch to tomorrow.
Chris Baker – Technological and ideological networks come together in offscript, an interactive projection façade that will loom above the Santana Row shopping district, challenging ideas of advertising and social interactivity between businesses and consumers.
Nova Jiang – How to get from here to there is the question tackled in this public art piece that promotes the idea of using mobility and sustainable locomotion as a means of increasing the social glue that binds.
Andrea Polli – Large-scale public art installation that acts as a monitor, an alarm and a thing of beauty all at the same time by using particulate air pollution as a basis for a cascading waterfall/lightshow flowing down the sides of buildings.
Todd Chandler – The American Drive-In is revisited via a large-scale multimedia installation and programming platform that uses wrecked cars and bruised nostalgia as the basis for presenting "future films," including Chandler's own Flood Tide.
Teddy Cruz – Neighborhoods, specifically the ones along the border of Mexico and the US are the center of this visual narrative/installation that focuses on housing as a way of altering transnational dynamics.
Blast Theory – Mobile phones and applications are put in service of an immersive and interactive cinematic/game experience where consumers sign up for their 15 minutes of fame by inserting themselves into a film narrative set in locations all over Silicon Valley. Participants will find themselves being directed from afar by the UK-based Venice Biennial veterans Blast Theory in plots that use tropes and situations ranging from documentaries to classic Godard
More info on the 01SJ artists and events available at –