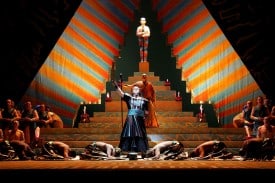 San Francisco Opera's General Director David Gockley launches the Company's 88th season with Giuseppe Verdi's Aida at the War Memorial Opera House. Opening on Friday, September 10 with six subsequent performances through October 6, Verdi's Egyptian masterpiece is the quintessential grand-opera experience. San Francisco Opera presents British fashion icon Zandra Rhodes' colorful and fanciful production directed by Jo Davies. Music Director Nicola Luisotti is on the podium conducting an international cast of renowned opera singers with the San Francisco Opera Orchestra and Chorus.
The celebrated cast of principal singers features Italian soprano Micaela Carosi making her Company debut as Aida, a signature role that she has sung around the world to great acclaim. Verdian mezzo-soprano and former Adler Fellow Dolora Zajick returns to sing Amneris, and tenor Marcello Giordani makes his role debut as Radames. Returning after his highly-praised performances in last season's Otello is baritone Marco Vratogna as Amonasro, and baritone Hao Jiang Tian sings the role of Ramfis.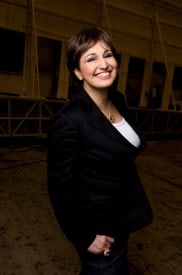 Micaela Carosi marks her first appearances with San Francisco Opera as the Ethiopian princess Aida. The soprano has previously performed this role at opera houses in New York, London, Rome, Dresden, Verona, Barcelona, Torino and Lucca. Carosi has recently also appeared in the title role of operas such as Madama Butterfly, Adriana Lecouvreur, Tosca and Manon Lescaut. Celebrated dramatic mezzo-soprano Dolora Zajick returns to San Francisco Opera as Amneris, the jealous daughter of the King of Egypt. Zajick, a graduate of San Francisco Opera's Merola Opera Program and Adler Fellowship, previously appeared with the Company as Amneris in 1989. Other Verdi roles that Zajick performs regularly include Azucena in Il Trovatore, Eboli in Don Carlo, Ulrica in Un Ballo in Maschera and Lady Macbeth in Macbeth.
Hailed as "the greatest tenor of his generation" by Opera News, Marcello Giordani makes his role debut as Radames, a handsome young warrior at the heart of a tumultuous love triangle. In demand around the world, the tenor's other credits include Cavaradossi in Tosca, Rodolfo in La Bohème, Gabriele Adorno in Simon Boccanegra, and Calaf in Turandot. Italian baritone Marco Vratogna returns to San Francisco Opera as the King of Ethiopia, Amonasro, a role he recently sang under the baton of Maestro Luisotti at the Royal Opera, Covent Garden. He has also performed Amonasro at Munich State Opera, the Vienna State Opera and at the Arena di Verona. Vratogna's other signature roles include Scarpia in Tosca and Iago in Otello, a role he performed to great acclaim at San Francisco Opera in 2009.
Following his successful 2008 Company debut as Chang the Coffinmaker in the world premiere of Stewart Wallace and Amy Tan's The Bonesetter's Daughter, baritone Hao Jiang Tian returns to San Francisco as the high priest Ramfis, a role he has also sung at Washington National Opera, the San Diego Opera and Michigan Opera Theatre. Bass-baritone Christian Van Horn appears at San Francisco Opera for the first time as Amneris' father, the King of Egypt; Van Horn will also appear this season as the Bailiff in Massenet's Werther and the Bonze in Puccini's Madama Butterfly. Adler Fellows Leah Crocetto and David Lomelí complete the cast as the Priestess and the Messenger, respectively.
Maestro Nicola Luisotti begins the second season of his tenure as San Francisco Opera's third music director with this production. Praised by the Financial Times as "a natural Verdian," Luisotti recently conducted Aida at the Royal Opera, Covent Garden, at which time the Sunday Times wrote "Where the Royal Opera scores is in its choice of conductor, Nicola Luisotti, music director of San Francisco Opera. His command of the subtleties of Verdi's masterly late orchestral style was the chief pleasure of the performance." This season at San Francisco Opera, Maestro Luisotti also conducts Puccini's Madama Butterfly, and Mozart's The Marriage of Figaro.
A compelling tale of conflicting loyalties and forbidden passions, this spectacular production, previously seen at Houston Grand Opera and English National Opera, is designed by renowned fashion designer Zandra Rhodes and directed by Jo Davies. Speaking about the production, General Director David Gockley explains that "Zandra's work is pure theater, just like she is. It's bigger than life and full of fantasy. It's perfect for making a big impact in a venue the size of ours."
Sung in Italian with English supertitles, the seven performances of Aida in September and October are scheduled for September 10 (8 p.m.), September 16 (7:30 p.m.), September 19 (2 p.m.), September 24 (8 p.m.), September 29 (7:30 p.m.), October 2 (8 p.m.), and October 6 (7:30 p.m.) 2010. San Francisco Opera will also present five performances of Aida in November and December with a different cast.
Webcor Builders Presents Opera at the Ballpark / Friday, September 24
San Francisco Opera partners with the San Francisco Giants and Webcor Builders once again to bring grand opera to AT&T Park, home of the San Francisco Giants baseball team, with a free live simulcast of Verdi's Aida on Friday, September 24 at 8 p.m. Conceived by David Gockley as a way to further the San Francisco Opera's community involvement, the Company's four previous simulcasts at AT&T Park have allowed nearly 100,000 music lovers to experience grand opera for free in one of San Francisco's most beautiful locations. Through state-of-the-art technology made possible by the Koret-Taube Media Suite, these simulcasts are transmitted in high definition (HD) to AT&T Park's 103-feet wide scoreboard—one of the highest quality outdoor scoreboards in the nation—live from the stage of the War Memorial Opera House. Concert quality audio combined with AT&T Park's huge screen create an unmatched operatic experience for attendees sitting in the stands and on the baseball field. Traditional baseball game concessions are available, providing audiences the rare opportunity to eat hot dogs, peanuts and popcorn while enjoying glorious opera.