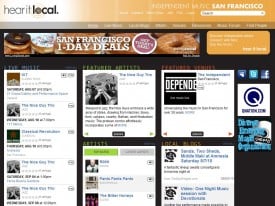 Hear It Local has announced plans to take its successful community-building platform for the local, independent music scene national, with San Francisco leading the charge. Founded as tcMusic.net in the Twin Cities in 1999, the site revamped and re-launched as Hear It Local this March, with plans to roll out sites in new music markets across the US in 2010. Boston will follow in Fall 2010.
"I never could have anticipated the success of the Hear It Local concept when I launched the site over ten years ago," said founder Glenn Shope. "It's become an amazing tool for independent musicians, their fans, and venues in the Twin Cities. I'm thrilled to offer the platform to new communities, beginning with the vibrant music scene in San Francisco."
Singer/songwriter Glenn Shope launched his original site in 1999 when he discovered that for every CD he sold through a major distributor he actually lost $6.00. Though the site was originally designed for personal use, Shopeeventually opened itto other local, independent musicians with great success. In ten years, his hobby project grew to become the premier clearinghouse for independent bands and music in the Twin Cities, effectively connecting musicians to listeners and providing new, innovative methods for promoting and selling their work. Shope teamed up with partner Matt Lombardi in 2009 to launch the project in new markets across the country.
Hear It Local is built with 100% user generated content representing a diverse range of artists and venues, from folk to classical to metal to hip-hop. The recently revamped and re-launched site offers a variety of new features, including a robust social networking platform, an interactive database of local, independent musicians featuring over 4,000 artists in 60 genres, and a comprehensive live music calendar that allows bands to manage acts and venues to manage bookings with ease.
"Music blogs, aggregators, and social networks have brought listeners into increasingly close contact with the global music marketplace," said Hear It Local co-founder, Matt Lombardi. "Just as amazing, though, is the fact that a website can nurture and support a small but vibrant independent music scene, as we have seen with our original site. Great music doesn't trickle down from the corporate top, but rises up from talented, hardworking artists, their devoted fans, and word of mouth buzz. With Hear It Local, that's what we hope to foster in local, independent music communities nationwide."