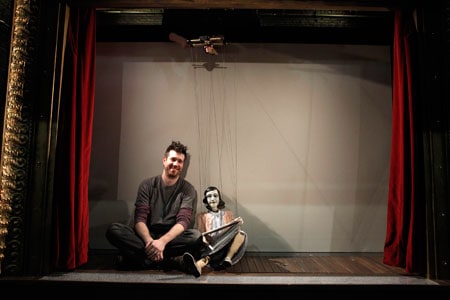 Even as its shows reach New York and London, Berkeley Repertory Theatre begins another season of fearless theatre here at home: Emmy- and Tony Award-winning actor Mandy Patinkin stars in the world-premiere production of Compulsion on Berkeley Rep's intimate Thrust Stage. Acclaimed director Oskar Eustis returns to the Bay Area with Rinne Groff's latest play, a kaleidoscopic collision of history and culture that combines stellar acting with marvelous marionettes. Compulsion, a world-premiere co-production from Berkeley Rep, The Public Theater, and Yale Repertory Theatre, begins previews on September 13, opens September 16, and closes October 31.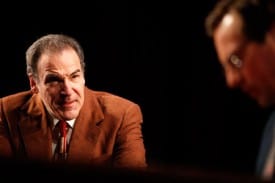 "It brings me nothing but joy to welcome Oskar back to the Bay Area, where we grew up as friends and colleagues," says Tony Taccone, artistic director of Berkeley Rep. "He has done a fantastic job at the helm of The Public in New York, and our mutual trust in each other and our organizations has allowed us to collaborate on many projects. The latest of these is Compulsion, written by the gifted Rinne Groff, whose intellect and imagination are everywhere apparent in this multilayered new play. Brought to life by a terrific ensemble of actors and puppeteers led by the incomparable Mandy Patinkin, Compulsion promises to be a special event."
"Coming back to Berkeley is a joy for me, and a multiple homecoming: back to the Bay Area where I spent my formative 20s, back to Berkeley Rep where I have joyously worked, and back to my old comrade in arms, Tony Taccone," Eustis remarks. "I have watched with admiration and not a little awe as Tony, Susie [Medak], and Les [Waters] have turned Berkeley Rep into one of the premier theatres in the country, and the deep affinity I feel with their social and artistic mission makes the Rep a natural partner for The Public. Our collaboration on Passing Strange was a model for what theatres can do when they work together with integrity and passion; I have no doubt Compulsion will be another important chapter in our ongoing story."
Adds James Bundy, artistic director of Yale Rep: "It is a great privilege for Yale Repertory Theatre and the Yale Center for New Theatre to collaborate with our colleagues at Berkeley Rep and The Public on a play of such vivid originality. Compulsion galvanized Connecticut audiences, and we look forward to the ongoing national conversation about this unique theatrical event and its subjects."
Compulsion was commissioned by Berkeley Rep and The Public Theater and is a co-production of Berkeley Rep, The Public Theater, and Yale Repertory Theatre, where the show debuted in January. This production will transfer to The Public in February 2011, becoming the 14th show in the last 14 years to move from Berkeley Rep to New York City. The executive producers for the local run are Shirley D. and Philip D. Schild, the Strauch Kulhanjian Family, Jean and Michael Strunsky, and Julie M. Weinstein. The Ira and Leonore Gershwin Philanthropic Fund and The Koret Foundation serve as production sponsors. BART and Wells Fargo have renewed their commitment as season sponsors at Berkeley Rep, and the 2010-11 season producer is Marjorie Randolph. The commissioning and development of Compulsion was supported in part by the Mosse Artistic Development Fund.
Sid Silver is obsessed. When he learns about a young girl named Anne Frank and her extraordinary diary, he makes it his mission to ensure her tale is heard. But is the manuscript a work of art? A cultural treasure? Once publishers and producers get involved, it becomes ―a very valuable product‖ – and Silver's good intentions prove to be his undoing. Inspired by the life of Meyer Levin, this important new play takes us on a journey from passion to Compulsion