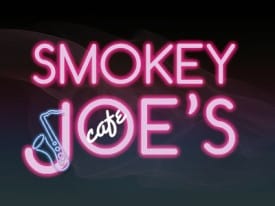 Smokin', sizzlin' or scorchin'…any way you look at it, Smokey Joe's Café turns up the heat on the Bus Barn Theater stage when Bus Barn Stage Company opens their 15th anniversary season on September 3. This musical tribute to one of rock 'n' roll's most prolific, talented duo of Jerry Leiber and Mike Stoller previews September 2 and runs through October 2 at the intimate Los Altos venue.
Jerry Leiber and Mike Stoller wrote music for many of the popular girl and guy groups of the 1950's and 60's such as the Coasters and the Drifters, as well as rock stars like Elvis Presley. Their music captures the essence of a wide variety of rock subgenres from doo-wop, gospel, and Motown to country Western and romantic ballads. Smokey Joe's Café is a summer stroll through their most beloved hits, including songs such as "Stand by Me," "Poison Ivy," "Hound Dog," "Jailhouse Rock", "Love Potion #9" and "On Broadway." Altogether the show includes 42 Leiber/Stoller melodies in this vibrant and nostalgic musical revue.
The talented Bus Barn cast of Smokey Joe's Cafe, directed by Artistic Director Barbara J. Cannon, includes Mark Alabanza, Ernestine Balisi, C.J. Blankenship, Tony Di Corti, Mary Gibboney, Monique Hafen, Russell E. Johnson, Amy Lizardo and Will Perez. Lee Ann Payne creates the choreography, while Shenelle and Spencer Williams team up to direct the music.
Get out of the September heat and come into the heat at Bus Barn with the jukebox musical that was the most acclaimed of 1995 and nominated for the Tony Award for Best Musical!